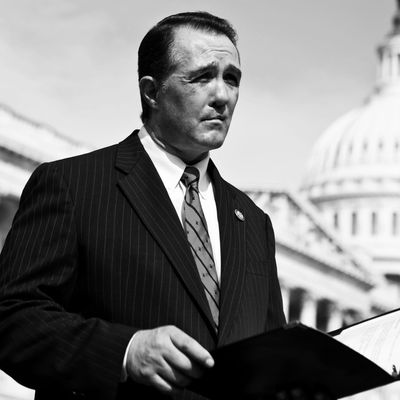 Representative Trent Franks, who did not find it inappropriate to discuss surrogacy with two of his staffers.
Photo: Brendan Hoffman/Getty Images
During this ongoing watershed moment for sexual harassment, "inappropriate behavior" and "sexual misconduct" have become catch-all phrases to denote everything from masturbating in front of non-consenting individuals to preying on teenage girls at the mall. Yesterday, Arizona congressman Trent Franks, an Evangelical culture warrior who was a member of the Freedom Caucus, resigned for a type of "inappropriate behavior" we have not yet seen in the past few months of public accusations against powerful men: asking two women on his staff to be surrogate mothers.
You would think asking female staffers to have your babies would be an obvious no-no, but it seems many politicians could use a refresher on guidelines for interacting with fellow humans in a professional setting. Here, let the Cut provide you with a handy cheat sheet, so that next time you're wondering, "Should I tell my female aide I had a sexual fantasy about her last night?" there won't be any confusion. Feel free to pass it around Congress!
Don't pose for a picture while groping someone.
While eight women in total have accused former senator Al Franken of inappropriate behavior, this lesson comes from his first accuser, TV and radio host Leeann Tweeden. She alleges that he kissed her without her consent on a USO trip to the Middle East in 2006, as well as groped her while she was asleep, of which there is photographic evidence. It's not great optics, and also it's assault.
Don't brag about groping someone.
It may not have kept Donald Trump out of the White House, but we'd advise you to avoid bragging about how you like to "grab women by the pussy." Similarly, don't joke that your favorite magician is "David Cop-a-feel," especially if, like George H.W. Bush, you're allegedly making it a habit to grope women mid-photo op.
Just don't grope anybody!
While Donald Trump and (if elected) Roy Moore may serve as proof that you can be an accused sexual predator and still serve in government, consider this: Do you really want to be the kind of guy who trawls malls for teens or eats four McDonald's sandwiches in one sitting?
Don't tell your staffers you had a wet dream about them.
Before Conyers or Franken or Franks, there was Texas representative Blake Farenthold, a man who bragged to another staffer about having wet dreams and sexual fantasies about his former communications director Lauren Greene (maybe while he was wearing his beloved ducky pajamas? Unclear). Greene alleges that she was fired after complaining, so she responded by filing a lawsuit, which was dropped after Fartenhold paid her $84,000 in taxpayer funds. In the past few days, various politicians have called on Farenthold to resign.
Don't confuse the elevator for a swingers' party.
Women on Capitol Hill know to avoid one specific place where predatory behavior is reportedly rampant: the elevators. The most infamous incident of this localized harassment occurred in 1993 when South Carolina Republican Strom Thurmond tried to fondle Washington Democrat Patty Murray's breast, and according to multiple women who spoke to CNN recently, women to this day are warning others to consider taking the stairs instead. One former Senate staffer detailed a specific incident in which a senator stroked the inside of her palm "in a really gross, suggestive way" in the elevator. You never know how long those doors — literally and figuratively — will stay shut.
Don't expose yourself to staffers.
Last month, congresswomen Barbara Comstock and Jackie Speier both testified in front of the Committee on House Administration about various inappropriate incidents, including stories about congressmen exposing their genitals. Comstock told the committee, "a former staffer told her that a congressman asked a staffer to bring some materials to his residence, greeted her at the door wearing a towel and exposed himself after he invited her inside." Next time you're thinking about taking your junk out in public for a little fresh air, might we suggest you reconsider?
Don't proposition your staffers for sex.
Most women don't want to have sex with their bosses. Nevada representative Ruben Kihuen, like many accused men, must've thought he was an exception, as he allegedly propositioned a campaign staffer during the 2016 election for sex. Given his calls for resignation, he may be the next to go.