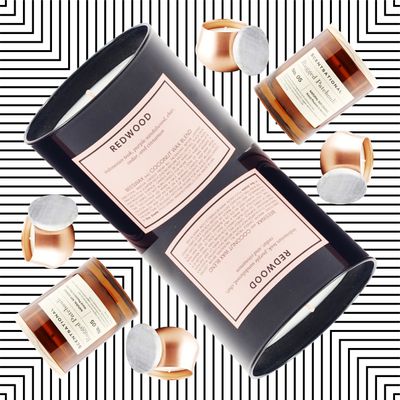 The holidays are upon us, and so are the candles. There are a million ways to make your house smell more festive, but you have gifts to buy and a plane ticket to book. Which cheap candles are actually good? Below, seven affordable options to fill your place with the scents of the season.
Straight from a hippie's holiday dreamscape, Patchouli No. 5 mixes the ultimate earthy scent with layers of vanilla, tree bark, and musk. Burn one to capture the log cabin experience anywhere, even inside your teeny-tiny apartment.
The Most Delicious Option
Photo: STEVE FINCHER
Imagine all the elements that make up a rich, wintry dessert — cloves, cumin, honey, and cinnamon — and then pour them into a candle. That's the calculus behind Votivo's Provencal Honey. Light one to corral the feeling of a lazy weekend bake-off in your home.
Outfitted in millennial pink, Boy Smells candles are pure Instagram bait — but they do more than look pretty in pictures. Redwood combines rustic notes of cedar and sandalwood with fiery layers of charcoal and cinnamon. It's the perfect aroma for your wintertime sanctuary.
If You Want a Super-Chic Jar
Capri Blue's candles come in elegant copper and gold-brushed pots filled with notes of warm cashmere, wood, vetiver, and white flowers. They look expensive, but cost no more than a weekly subway pass.
And now for a sparkling treat: Crisp Champagne. With notes of vanilla, oak, and Brut bubbly, here's a candle that understands the effervescent principles of a really good party.
What are the holidays, really, without a little spice? Maison Louis Marie's "Balincourt" is practically a spice rack, with sandalwood, cedarwood, cinnamon, nutmeg, and amber blended into each jar. It's meant to evoke the mysterious lure of an ancient French forest.
The One That Should Be Way More Expensive
Photo: & Other Stories
A dazzling swirl of nutmeg, lemon, vetiver, oud, and pine needles, & Other Stories' Burspråket is a love letter to winter. It's the brainchild of Jérôme Epinette, the same guy responsible for Byredo's much pricier fragrance suite. Just, uh, do your best learning how to pronounce it.
If you buy something through our links, New York may earn an affiliate commission.