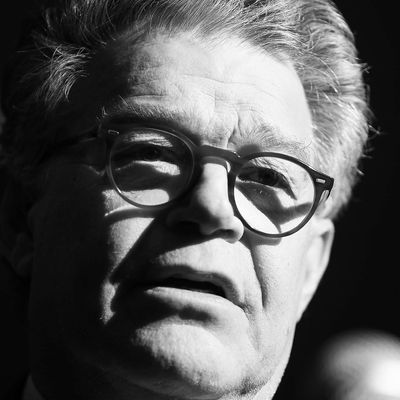 Senator Al Franken.
Photo: Mark Wilson/Getty Images
Senator Al Franken announced earlier this month he would resign following allegations of sexual misconduct, and on Thursday night he addressed his supporters f0r the first time in a speech streamed on Facebook Live.
"Let me be clear," he said. "I may be resigning my seat but I am not giving up my voice."
Since November, seven women have accused Franken of inappropriate touching, groping, and kissing. The senator denied the allegations, and repeatedly apologized. But he resigned after facing pressure from his Democratic colleagues in Congress, and will be replaced by Minnesota lieutenant governor Tina Smith on January 3.
However, a recent poll suggests that 50 percent of Minnesotans believe he should stay in office, and 60 percent think the Senate Ethics Committee should finish its investigation.
In his Senate resignation earlier this month, Franken was emotional but emphatic, saying "Some of the allegations against me are simply not true. Others I remember very differently."
However, in his speech tonight Franken made no mention of the allegations against him or the broader conversation around sexual harassment as he had in his speech before the Senate.
Instead he thanked his wife, Franni, highlighted what he had accomplished while serving as a senator, and held for laughs when appropriate.
"Serving the people of Minnesota in the U.S. Senate has been the honor of my life," he said. "I am here tonight to say, 'Thank you.'"
He added: "We still have a lot of work to do together on issues ranging from net neutrality to climate change," Franken said. "We still have to be ready to speak out for economic justice and to defend the truth."