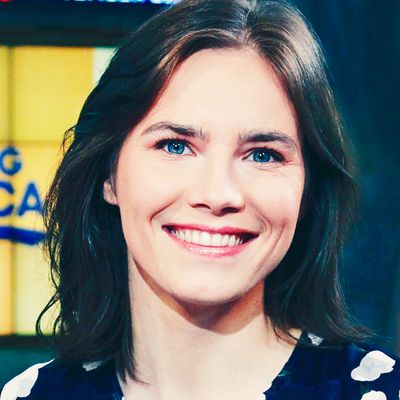 Amanda Knox.
Photo: Lou Rocco/ABC via Getty Images
Amanda Knox, once wrongfully convicted and imprisoned for murder in Italy, has been working as a writer and activist since returning stateside. Now, she'll be hosting her own series from Vice and Facebook.
Per a press release from Vice, the show will be a five-episode series called The Scarlet Letter Reports, "exploring the gendered nature of public shaming." In it, Knox will interview such figures as Amber Rose and teen rape survivor Daisy Coleman. It will be developed by Broadly, Vice's women's site, and premiere on Facebook Watch.
"While on trial for a murder I didn't commit, my prosecutor painted me as a sex-crazed femme fatale with magical powers to control men. The tabloids loved that story. So did the public. So did the jury. I lost years of my life to prison because of two-dimensional and misogynist stereotypes," Knox said. "In The Scarlet Letter Reports, I'm hoping to re-humanize others who have been similarly shamed and vilified, and elevate the standard for how we think and talk about public women."
Knox, then a student at University of Washington, was studying abroad in Perugia, Italy when she was accused of killing her roommate, Meredith Kercher in 2007. She was sentenced to 26 years in prison, served nearly four of them, and was officially exonerated in 2015.