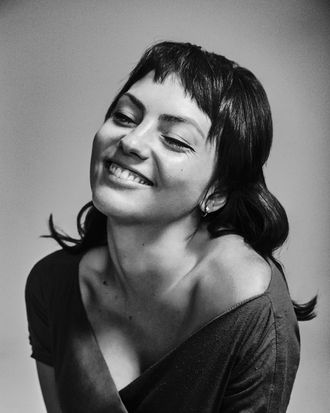 Angel Olsen knows a lot about tea. "I really like matcha, it's ground up green tea — have you ever tried that?" asks the singer-songwriter at Boise Parlor the afternoon before one of her two huge sold-out New York shows. She got tired of talking about tea while working at the first Argo location but goes on about Rooibos and orders a pot. "It's like hibiscus, but not flowery, keeping the bag in forever makes it stronger, not over steeped."
Olsen is in New York during the homestretch of a year-long tour in Europe and the U.S. for her acclaimed 2016 album My Woman and the 2017 release of Phases, a compilation of new material, covers, and B-sides. The 30-year-old, who came up performing in Chicago's DIY scene, released Phases in October hoping to show fans her style range.
Amid sexual-harassment chatter in the music industry Olsen feels blessed, expressing empathy for famous men with tarnished reputations. "If I've encountered it it's been very subtle," she said. "No one's ever tried to grab me or be weird I've been very lucky." A contributor to the anti-Trump music fundraiser Our First 100 Days, Olsen isn't letting the current news cycle bring her down or scare her from playing larger venues. "At this point it's not about artists being embarrassed to be political, we're talking about basic human rights," says the musician, who started touring in Charlottesville and opened for Arcade Fire at Mandalay Bay, the hotel where this year's Las Vegas shooting occurred.
"We need all those liberal people who are comfortable living in the North to come on down and hold their signs up down there," suggests Olsen who was constantly asked about North Carolina's transgender bathroom laws in Europe after calling Asheville home for four years. She raves of the city, where she's noticed wearing outerwear gear as fashion — a.k.a. gorpcore — is the norm. "They're not Tevas!" she wants everyone to know of her hiking boots, which she admits she's worn off the mountain. "When I moved there I got a Subaru Outback and some Tevas, sent some photos to people I was like 'Look, I'm set for life.'"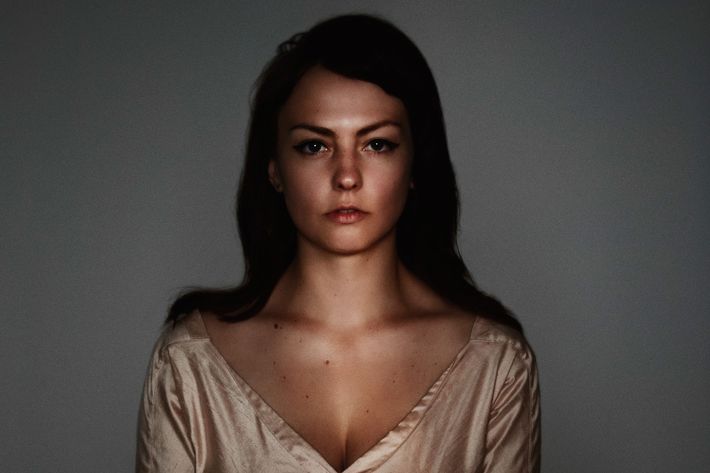 She's not wearing Tevas today at the tea shop. With her hair in an updo, smudged eyeliner on her lids, and a black-and-white striped tee, the indie star skips out on tiny cucumber sandwiches. She hasn't jumped on the gluten-free diet fad but is trying to eat mindfully. Living with thyroid disease on tour means stocking up on premade grocery-store salads, and finding the nearest Thai restaurant to accommodate her band's many dietary restrictions. The night before half of them slept in a tour bus, half in a hotel after they celebrated a set at the boxing-themed dive bar Jimmy's Corner in Times Square. Grateful for her team's dedication to making her dream a reality, Olsen's gotten better at balancing personalities. "When one of us is mad at the other, we play better. We're extra passionate that day," she laughs.
The next day, in between songs at the buzzy new venue Brooklyn Steel, Olsen jokes, "I love you, wanna be inside you," to the crowd of hipster 20-somethings, mostly swaying couples on Friday night dates. Performing requires getting into the characters of her songs, and Olsen would like to try acting if she reaches a point where she doesn't have another album in her. Or maybe she'll take my job. "I read tacky headlines and I get bummed" she laments over the press. "I'd love to be an editor. It's very hypocritical for me to say, but it's true."