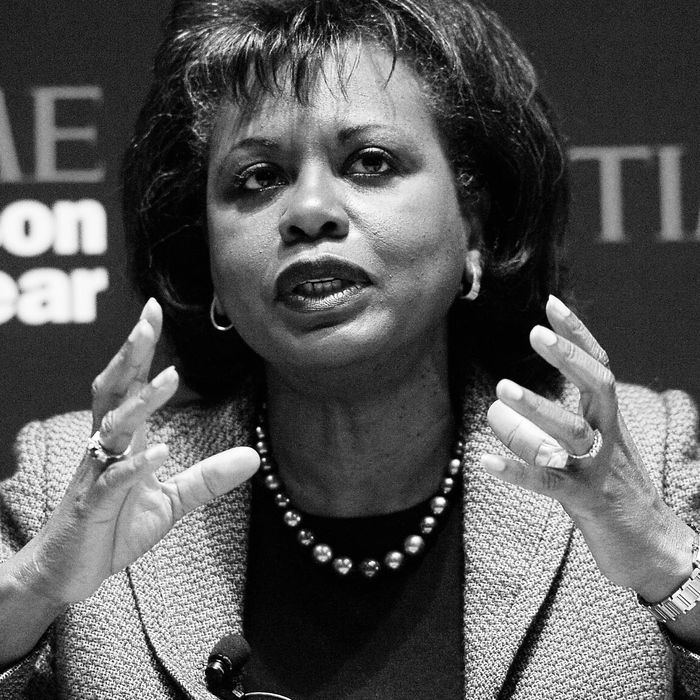 Anita Hill.
Photo: Jemal Countess/Getty Images for Time Warner
Anita Hill will head the new Commission on Sexual Harassment and Advancing Equality in the Workplace, Variety reports. According to a statement released Friday, the commission's goal is to "tackle the broad culture of abuse and power disparity."
"The Commission will lead the entertainment industry toward alignment in achieving safer, fairer, more equitable and accountable workplaces —particularly for women and marginalized people," the statement continues.
Funded by some of the most powerful people in Hollywood, the commission was spearheaded by a group of women: Nike Foundation co-chair Maria Eitel, Lucasfilm president Kathleen Kennedy, venture capitalist Freada Kapor Klein, and attorney Nina Shaw. Hill, who's been working on ending the culture of silence around sexual harassment for 26 years, said she's excited about this moment's "unprecedented opportunity to make real change" at the commission's meeting yesterday.
Long before our current #MeToo reckoning, Hill brought sexual harassment to the forefront during the Senate confirmation hearings of Supreme Court justice Clarence Thomas in 1991. She alleged that Thomas had sexually harassed her when he was her boss at the Department of Education and the Equal Employment Opportunity Commission. Since that defining moment, Hill has remained active in discussions surrounding gender and racial equality, as well as sexual harassment.
"I'm proud to be leading this newly-formed Commission on a long overdue journey to adopt best practices and to create institutional change that fosters a culture of respect and human dignity throughout the industry," Hill said at the Friday meeting. "We will be focusing on issues ranging from power disparity, equity and fairness, safety, sexual harassment guidelines, education and training, reporting and enforcement, ongoing research, and data collection."
This past November, Hill was forced to revisit her 1991 experience when former vice-president Joe Biden, who presided over Thomas's confirmation hearings, said he's "so sorry if [Anita] believes that" the hearings were unfair. While Hill was underwhelmed with the apology, she took the opportunity to speak about the change she wishes to see.
"It's still a teachable moment where we can learn from what happened in 1991," she told the Washington Post. "Just having somebody come forward is not enough. You've got to be able to come into a system that respects and values our experiences and our work and our integrity. And we're not there yet."