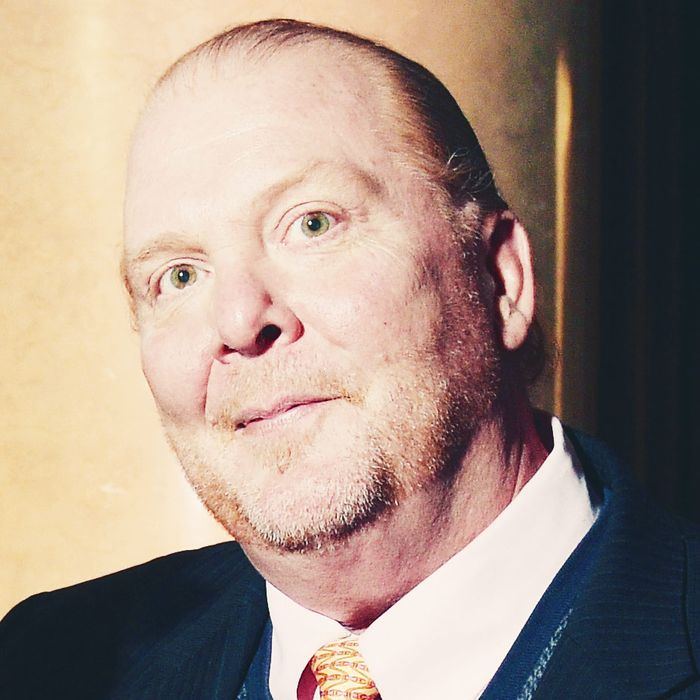 Mario Batali.
Photo: Jason Kempin/Getty Images for Food Bank for NYC
Allegations of sexual misconduct continue to mount against Croc-wearing celebrity chef Mario Batali. On Wednesday, actress Siobhan Thompson told CBS This Morning that Batali had "inappropriately touched her breasts" while she was working as a hostess at one of his restaurants.
In a tweet on Monday, Thompson wrote that she had worked at Batali's restaurant Del Posto, and that she could confirm he was very handsy (and cheap about the staff's family meals.)
"It's fun when the ones you're waiting for come out!" she wrote in another tweet.
Thompson is the fifth woman to come forward with allegations of harassment against Batali. On Monday, Eater published a report in which four women accused the chef of groping and touching them inappropriately over a span of two decades. The women spoke on the condition of anonymity, for fear of retribution.
In a statement, Batali told Eater that the behavior described in their story does "match up with ways I have acted" and apologized "to the people I have mistreated and hurt."
As a result of the allegations, ABC fired Batali from his co-hosting job on The Chew, the Food Network has nixed a revival of its Molto Mario series, and Batali has stepped down from the day-to-day operation of his businesses.