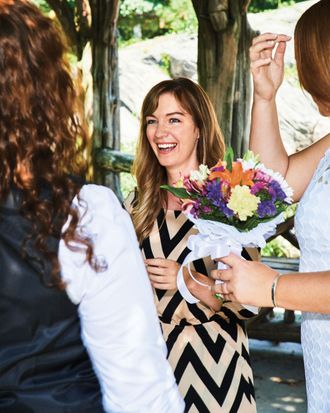 Janessa White, co-founder of Simply Eloped
Photo: Kyle Dorosz
In our Ask the Experts series, New York Weddings gets tips and advice from professionals in disciplines from dress design to elopement planning.
Janessa White
Co-founder of Simply Eloped
Elopement planner sounds like an oxymoron. Why does Simply Eloped exist?
When people think of elopements, they think of Vegas — a dirty midnight wedding with Elvis. But I think the term is evolving. We help couples organize a planned elopement, which is simple and cost-effective and can be done on short notice. If a couple calls and has a wedding license, we can do the wedding the next day.
How cost-effective, exactly?
Our biggest package is $1,200, and it includes flowers, Champagne, photographers, and a Central Park permit. For $325 more, we can arrange hair and makeup. We work with Flowers by Richard to provide a small bouquet of something like English roses or lilies with a matching boutonniere. Really basic — unless a couple asks for something extra. Most people don't feel they need all these things, so a lot of couples choose the package with just the photography and an officiant ($900). Our officiants would never start with "Dearly beloved, we are gathered here today."A lot of people we marry aren't religious, so our officiant sends them a set of questions ahead of time and tends to find other readings or stories to tell.
Eloping conjures an image of a young couple running away and getting married in secret. Does that still happen?
We do get couples coming to New York on vacation to get married — something like 50 percent of our clients are from the U.K., Ireland, or Australia. I see a lot of people who are just ready to be married. Last December, a bride from New York reached out ten days before the date she was thinking. There was snow on the ground, but they had family coming to town, so they said, "Let's just do it." It was beautiful; she had on a fur coat in Central Park. We once had one couple from the Netherlands who didn't want their photos shared on any of our platforms, because they still hadn't told anyone back home. They got married at City Hall in February. We scheduled four hours of photography and guided them through the paperwork process. A lot of my job is expectation management: helping out-of-towners with permits and marriage licenses, telling locals that to avoid long lines at City Hall, they'd better go early in the morning.
Besides City Hall, where do people elope to in New York?
Everyone from overseas wants to do Central Park. I don't know if they saw it in movies or on TV, but people have this vision in their heads of Central Park as the place to have a ceremony. We also do the High Line, the New York Public Library, and One World Observatory — we just pay an entrance fee and go in. For locals who already know those spots, we like Jefferson Market Garden in Greenwich Village. I also do a lot of research on Airbnb, so we can help couples book an apartment that works as a honeymoon suite but also has a rooftop, balcony, or garden where you can have an intimate ceremony. You get a double bang for your buck.
929-243-4491; simplyeloped.com
"Eighty percent of our ceremonies are in Central Park. Everyone asks for it. But Fort Tryon is beautiful, off the beaten path, and not nearly as populated."
*This article appears in the winter 2018 issue of New York Weddings.