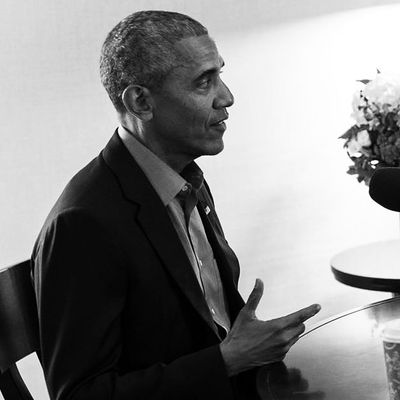 Barack Obama and Prince Harry.
Photo: Handout/Kensington Palace via Getty Images
In his first interview since leaving office, Barack Obama opens up about Donald Trump's inauguration to BBC guest editor Prince Harry, saying he felt "serenity" that day — while still having "concerns" about the state of the country.
"The first thing that went through my mind was, sitting across from Michelle, how thankful I was that she had been my partner through that whole process," Obama told the British prince during the interview, which was recorded in Toronto in September.
The former president went on to say that he and the former First Lady felt a sense of "completion" in knowing that they'd "done the work in a way that preserved our integrity and left us whole." Obama added that it was a "satisfying feeling that was mixed with all the work that was still undone and concerns about how the country moves forward. But overall there was a serenity there, more than I'd expected."
Trump, it should be noted, has spent his first year in office trying to undo many of the accomplishments of the Obama administration, from attempting (and failing) to repeal Obamacare to rescinding Title IX guidance for campus sexual assault. He also ran on a campaign marked by racism, misogyny, lies, and sexual-assault allegations. So while Obama may have felt serene on Trump's inauguration day, many onlookers may recall feeling more like … this.