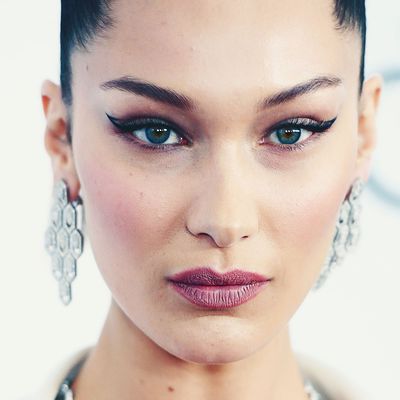 Bella Hadid.
Photo: Dimitrios Kambouris/Getty Images for Glamour
Bella Hadid went straight from London's Oxford Street to the U.S. Embassy last night, where she joined in with "Free Palestine" demonstrators who were protesting Trump's decision to officially recognize Jerusalem as the capital of Israel earlier this week, TMZ reports.
The 21-year-old model looked unintentionally glamorous, marching with a "Free Palestine: End Israeli Occupation" sign while still wearing her evening gown from the event before. She had spent the first part of the night at the opening of TAG Heuer's London flagship.
This wasn't Hadid's first protest. In January, she and her sister, Gigi, marched down New York City streets after Trump announced the first iteration of his Muslim ban (Hadid is Muslim and proud). Hadid, whose father is Palestinian, has also been vocal about standing with Palestine, which she recently expressed on Instagram.
Seeing the sadness of my father, cousins, and Palestinian family that are feeling for our Palestinian ancestors makes this even harder to write. Jerusalem is home of all religions. For this to happen, I feel, makes us take 5 steps back making it harder to live in a world of peace. The TREATMENT of the Palestinian people is unfair, one-sided and should not be tolerated. I stand with Palestine. There is no hate against anyone… There are no sides… All religions living side by side.. Now it is Just one man..it has always been a factor of trying to bring peace… Where is the hope..?
Although she was discouraged a few days ago, Hadid went looking for hope Friday night and found it.