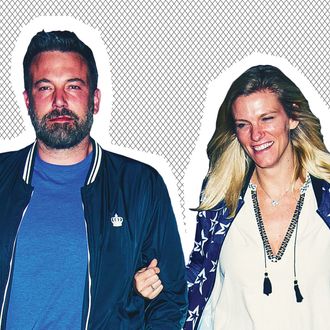 Ben Affleck and Lindsay Shookus.
Welcome to You Know What I Heard, the Cut's weekly celebrity gossip column about the peregrinations of the rich and famous. Have gossip? Email me at allie.jones@nymag.com, send me a message on Twitter, or contact me on Signal (ask for the number).
Now that it is December, celebrities are partaking in the human ritual known as "cuffing season." In the last week, several stars renewed their commitments to their significant others. Some of these gestures of goodwill were expensive: Ben Affleck reportedly rented an Upper West Side apartment for his SNL producer girlfriend Lindsay Shookus that costs $28,000 a month. According to People, "the 2,761 square foot apartment includes 3 bedrooms, panoramic views of both Central Park and the Hudson River, a private movie theater, pool and 24/7 butler service." Lucky Lindsay gets it all to herself when Ben's in Los Angeles taking his children out for ice cream in front of the paparazzi.
Chris Evans and Jenny Slate, meanwhile, are looking for a place downtown. People reported last week that the newly reunited couple looked "very much back together" while touring apartments in Tribeca.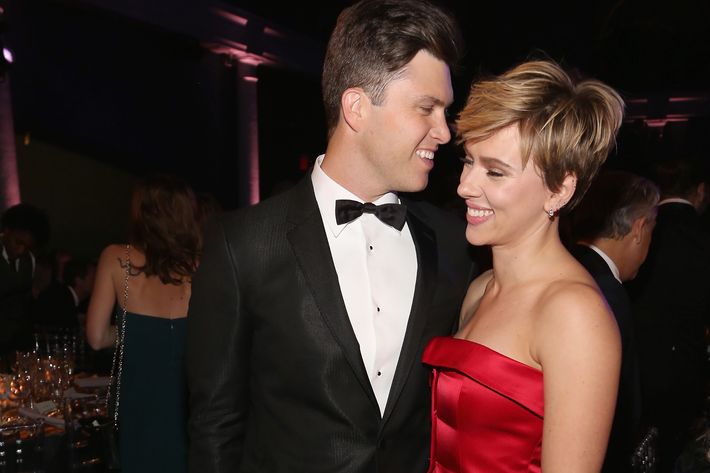 Evans's Avengers co-star Scarlett Johansson hasn't made any real estate investments lately, but she has reportedly gotten serious with "Weekend Update" anchor Colin Jost. After dating around this summer, Johansson finally posed for an official photo with Jost at the American Museum of Natural History Gala in New York last week. A source told People, "Scarlett likes to be in love and has not changed a bit in that area, Colin is good for her because she likes smart men, especially writer types. She is a very bright girl and always searching for that perfect match." The Harvard Lampoon guy!
Another relationship milestone: Jamie Foxx and Katie Holmes were spotted at the same event at the same time. The very, very private couple, who have been rumored to be dating for like, four years now, both showed up at the opening of the Privé Revaux sunglasses store in New York Monday night. Foxx, along with Pretty Little Liars actress Ashley Benson (?), is a spokesperson for the brand.
Kate Hudson made a much more public declaration of love this weekend on Instagram when she posted about her one-year anniversary with the music producer Danny Fujikawa. She also revealed that they met through his stepsisters Sara and Erin Foster.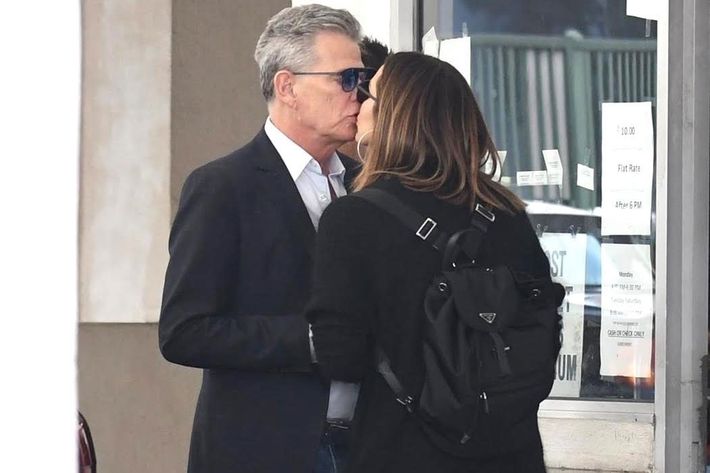 Which brings us to one of the most unexpected but seemingly solid couples of 2017. Sara and Erin's 68-year-old dad David Foster is dating 33-year-old Katharine McPhee. The celebrity composer and singer/actress have been rumored to be together for months now, but last week, they were photographed kissing for the first time. (Foster finalized his divorce from his fourth wife, Real Housewife Yolanda Hadid, in October.) Hollywood is a small world that begins and ends with Gigi Hadid's former stepdad making out with an American Idol winner outside E Baldi on a Thursday afternoon.
We have heard so much about the Kardashian triple-pregnancy in the last few months that I forgot Khloé and Kylie have yet to confirm that they are pregnant. While Kim has announced that she is expecting her third child via surrogate this winter, Khloé and Kylie haven't addressed any reports about their pregnancies, choosing instead to walk around in baggy tops carrying purses over their stomachs. This can't go on forever. When will Kris Jenner decide the time is right for Khloé and Kylie to reveal their big news?
The Cut's resident Kardashian expert Mariah Smith thinks we might get a konfirmation for Krismas. Kim and Kanye West's artistic collaborator Eli Russell Linnetz has been teasing the family holiday card on Instagram each day in December. Perhaps we'll see two perfectly lit pregnant bellies on the 25th?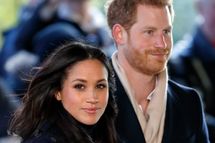 Another exciting holiday moment to look forward to: Meghan Markle will spend Christmas with the Queen. All the British tabloids are reporting that Markle will break tradition and join Prince Harry in the royal festivities at Sandringham this year. (Kate Middleton did not attend the Queen's celebration when she was engaged to Prince William in 2010.)
And the May wedding plans are falling into place: Markle's favorite American gossip site, E! News, reported Monday that Prince Harry has asked his brother to be his best man. The site also noted that the youngest daughter of Markle's friend and stylist Jessica Mulroney will have a special role to play in the wedding. Thank you Jessica, once again, for getting the important news out there!
One small blessing from this week:
I cannot stop watching this video of The Big Bang Theory's Kaley Cuoco scream-crying over her engagement. She is now officially betrothed to Karl Cook, a 26-year-old "professional equestrian" (and the son of a billionaire). YES I SAY YES I SAY YES!
Finally, I recommend reading this Daily Beast interview with Enty, the anonymous entertainment lawyer who runs the blind-item gossip site Crazy Days and Nights. For years, Enty has reported on the whispers about powerful, bad men in Hollywood: Harvey Weinstein, Kevin Spacey, Matt Lauer, all of them.
"My site has always been about the underdog and the victims," Enty told the Daily Beast. "Hollywood, since the beginning of time, has been filled with Harvey Weinsteins. And for a long time, it was covered up, and it was covered up with the help of the media. The gossip columnists were paid off or they were sued to oblivion." Read CDAN today to find out who will get exposed in the New York Times tomorrow.
Thank you all for gossiping this week! Don't forget to email me at allie.jones@nymag.com, send me a message on Twitter, or contact me on Signal, if you'd like to chat.