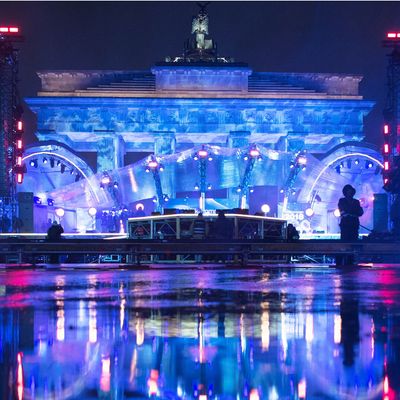 The celebration will be held at Brandenburg Gate.
Photo: RALF HIRSCHBERGER/AFP/Getty Images
A team of medical professionals will be stationed near Berlin's main New Year's Eve celebration to consult with partygoers who are sexually harassed or assaulted at the event, the Washington Post reports. This decision stems from the events of 2015, when about 1,200 women across cities in Germany were sexually assaulted and robbed during New Year's Eve events.
"[Assaulted women] can stay here and calm down or speak to someone trained to offer psychological support," Anja Marx, the spokesperson for Berlin's main New Year's Eve celebrations, told the Post.
According to BBC, hundreds of thousands of people are expected to attend the event at Berlin's Brandenburg Gate this year. Along with the installation of the medical tent staffed by the German Red Cross — known colloquially as the "safe zone" — city police have banned large bags, glass bottles, and alcoholic drinks.
Though Berlin witnessed fewer incidents of sexual misconduct than cities like Hamburg and Cologne, the mass assaults in 2015 shook the country. Prosecutors determined months after New Year's Eve that over 2,000 men were involved in the reported assaults, but few were identified.
While Berlin's decision has a sizable number of critics who believe the "safe zone" proves the city accepts sexual violence as a reality of life, others believe the decision is a step in the right direction.
"Germany's efforts are a step in the right direction — they counter the expectation that sexual violence should be treated as a private problem, not a public concern," Rachel Davis, managing director at the Prevention Institute, told the Post.