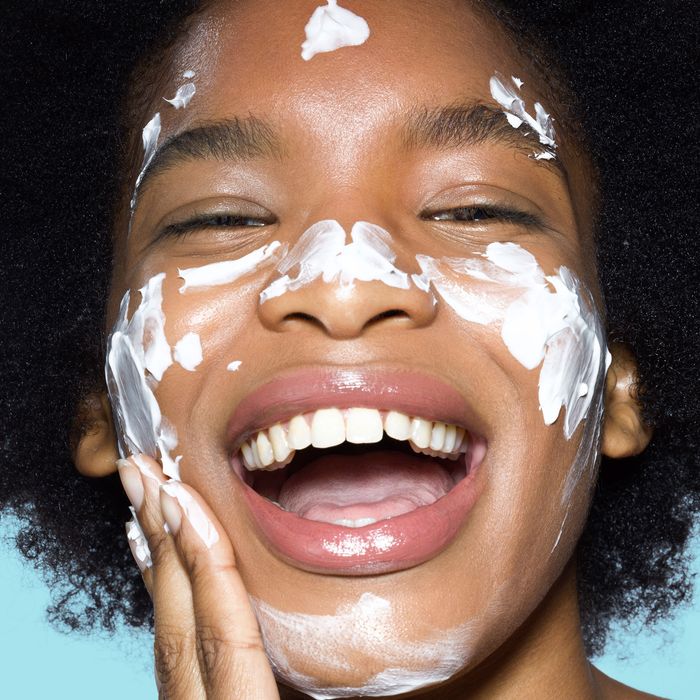 Photo: Jonathan Knowles/Getty Images
In the winter, dry skin comes for us all. Even as an oily skinned person, I need to adjust my skin-care routine accordingly. I've tried nearly every cleanser, moisturizer, and weird tip out there to strike the perfect balance of hydration without greasiness. Below are the best cold-weather skin-care treatments I've found.
Cleansers should never be drying, even if your skin is oily or acne-prone. A harsh cleanser can damage the skin's natural protective barrier, making you susceptible to more breakouts. Nearly every doctor in America recommends CeraVe's Hydrating cleanser for dry-skin sufferers, and having experienced its ability to clean without making my face feel tight, I recommend it too. Alternatively, Glossier's Milky Jelly is a good option for all skin types. It's not drying, and its subtle rose scent transforms the boring act of face-washing into a much more exciting experience.
A Really Good Chemical Peel
Exfoliation is crucial in winter for getting rid of dry, flaky skin. Paula's Choice makes the most affordable options. I layer the brand's 8% AHA lotion under my moisturizer every day to make my face ridiculously smooth. If your skin is sensitive, you might prefer the brand's 5% alpha hydroxy acid lotion, reducing frequency as needed. There are more potent weekly treatments, too, like the 10% Weekly Resurfacing Treatment, which mimics the work of an actual facial.
My winter skin needs moisture, but I'm hesitant to load it up with anything that will make me break out. That's why I compromise with hyaluronic acid. Capable of absorbing more than a thousand time its weight in water, hyaluronic acid is the most moisturizing ingredient on store shelves. I add a few drops of the hydrating serum to my moisturizer for lotion that is instantly more moisturizing, but not heavy. As a bonus, hyaluronic acid also softens the look of tiny expression lines on your face.
The Perfect Nighttime Moisturizer
While hyaluronic acid is fine as a morning boost, I need something heavier at night. The absolute best nighttime moisturizer for oily skin is Tatcha's The Water Cream. It's incredibly hydrating without weighing down your face in goo. If your face is already fairly dry, consider the life-changing magic of IT Cosmetics' "Confidence in a Cream." Silly name aside, it's just like La Mer, but much cheaper.
Despite my best efforts to prevent them, sometimes dry patches develop around my mouth in the winter. My solution? A pin-prick amount of a multipurpose balm. My favorite is Lucas' Pawpaw Ointment. You can use it anywhere, lips included.
Speaking of lips, is there any body part more vexing in the cold? Mine get chapped, dry, and flakey nearly every day. At home I scrub them with sugar, and when I'm on the go I reach for Lush's delicious Honey scrub. As for lip balms, there's nothing more hydrating than Moroccan Magic. Buy them in bulk!
If you buy something through our links, New York may earn an affiliate commission.