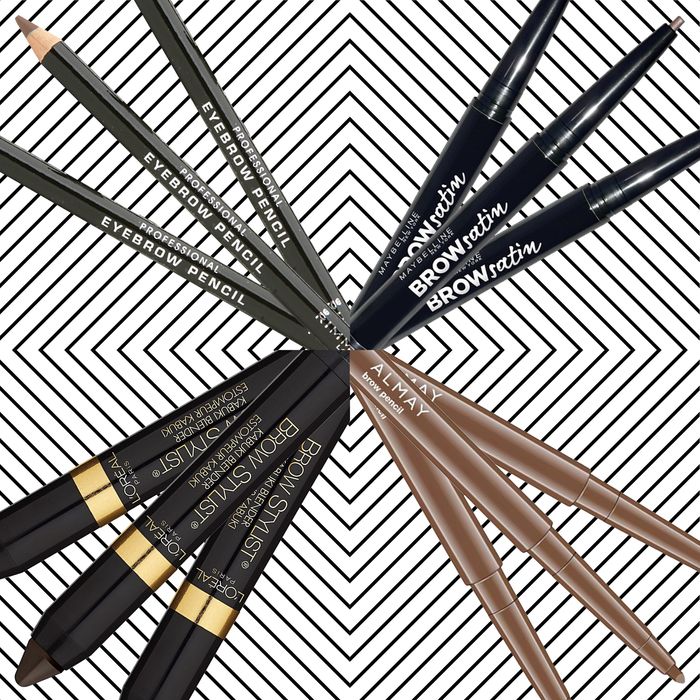 We can thank Cara Delevingne for kick-starting a worldwide brow obsession. Delevingne made us all aware that great eyebrows can add structure, dimension, and symmetry to a face. And if yours aren't great — well, that's what eyebrow pencils are for.
The Cut conducted an in-depth search for the best brow pencil you can buy at a drugstore. We tested for the firmness of the wax and the naturalness of the color, and took note of which ones included spoolie brushes to create perfect brows. Read on to find out which was the all-around winner out of the nine we tried.
Almay gets points for including a spoolie brush, but the formula is so, so smudgy. It was difficult to keep the color from moving beyond the borders of my brows. It comes in two colors, dark blonde and brunette, and I found the brown shade was extremely dark. The color looked opaque and unnatural on my fair skin. For me, it was a pass.
This felt-tip pen made it easy for me to draw believable-looking strokes. Once it was on, it didn't move, either. My brows became a bolder version of themselves, but still looked natural. One drawback: If your brows are normally askew in the morning (like mine), it's crucial to comb them in an upward direction before you fill them in, but this pen doesn't include a spoolie brush for easy combing. As far as longevity: my pen hasn't dried up yet, but several online reviewers complained theirs had after only one use.
The cap of this pencil contains a small brush on the side. But even so, the bristles are exposed and my inner germaphobe wondered how fast it would get contaminated. The pencil itself is nice and firm. You can slant it to shade in brows, or use the tip to create detailed strokes. For under $5, it does the trick.
Wunder2's brow pencil is dual-sided. One end has an angled tip for filling in depth, while the other has a tiny point for detailing and defining the arches and tails. It goes on hard enough to be precise without smudging, but soft enough not to hurt the skin. The color didn't budge, but like the Ardell pen, it lacked a spoolie.
The One That Feels Like a #2 Pencil
This is a true pencil. On one end, the firm, hard point allows for precise shading and filling. On the other end, the spoolie brush helps blend the pigment into your brow hair. The color was good: my brows didn't look inky, just naturally fuller. My efforts lasted for an entire day without fading or budging. In fact, it took some rubbing to get it off. Plan to invest in a sharpener, though — this doesn't come with one.
This one requires an unusual technique: First, gently trace over your brows with the soft chubby pencil, and then shade them in with the pencil's other side — a dense, flat brush. The result was an instant bold brow without a single gap. On the downside, the pencil side gets blunt quickly and it's difficult to sharpen. It won't work if you have super-skinny eyebrows or want to add precise definition.
The angled pencil tip is ideal for feathering in hair-like strokes, but the hard wax makes it necessary to apply more pressure. The result was natural, not too dark. Soap & Glory is the only option I tested that included a setting gel with a miniature spoolie — a big bonus that kept my hairs tame and in place all day.
The soft, self-sharpening pencil tip does a nice job of shading, so any sparse areas look fuller without much effort. It's easy to apply strokes, and while the texture is soft, it doesn't smudge if you give it a minute to set. I also loved the high-quality spoolie.
I love this pencil. The wax is hard but not painful to apply, and the fine point allowed me to fill in the exact spots I wanted. On the other end, a tiny Persian-dome-shaped sponge dispenses powder. Although barely anything seemed to come out when I dabbed it, I found the sponge useful for blending everything together. The "Deep Brown" shade made my brows slightly darker than I'm used to, but they still looked natural. For $8, you can't go wrong.
If you buy something through our links, New York may earn an affiliate commission.