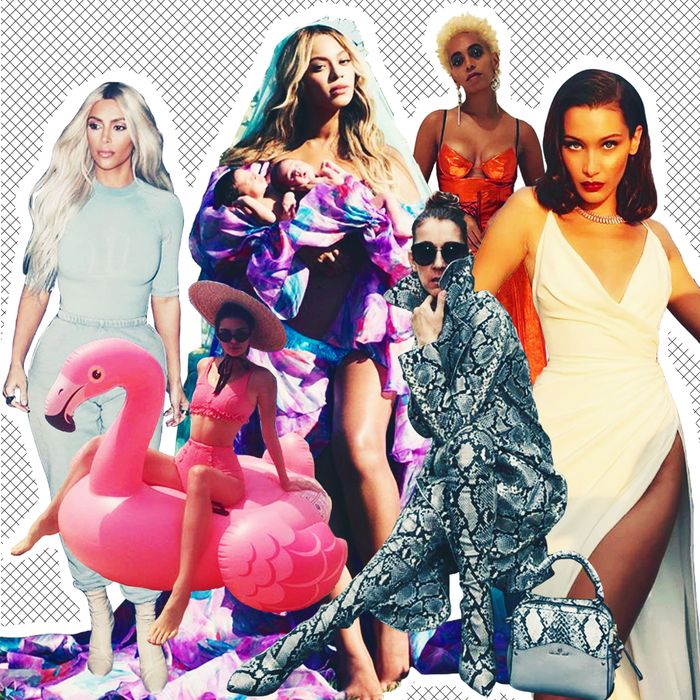 For decades, the red carpet has served as a platform for celebrities to be photographed in the best outfits money can buy — or borrow. Millions of people still tune in every year to rate the best suits and gowns at awards shows like the Oscars or the Grammys. We still tweet out memes of the most outrageous looks. And, of course, we still read about every fashion moment online and in tabloids the following morning. But ever since the dawn of Instagram, red-carpet moments have begun to pale in comparison to ones celebrities themselves share online.
On Instagram, there are no step-and-repeats, no fake smiles, and no awkward interviews. The clothes are relatable — or at least worn in situations that are slightly less contrived than the red carpet, like boarding a plane. Sometimes, celebrities even style themselves, which makes for some fabulous, surprising, and downright ridiculous fashion moments. Below, we picked our 11 favorites of 2017.
1. Rihanna's Gucci Jumpsuit
Bad Gal was wearing KiraKira-friendly outfits before the app even hit the mainstream. While attending the Coachella music festival this spring, she stood out among the crowd in a silver-sequin Gucci jumpsuit, which she wore with platform Fenty x Puma sneakers, a Gucci tank top, and Gucci sunglasses. She also wore jorts, because Coachella. Rihanna might say that Instagram is where trends go to die, but she definitely started most of them on the platform this year.
2. Kendall Jenner's French Photo Op
Everyone knows that summer doesn't exist until you take a pool-float photo. Kendall Jenner really outdid herself this year, matching her pink flamingo to a retro, pink Lisa Marie Fernandez bathing suit while on vacation in Cannes, France. She also wore two of Instagram's favorite accessories: sunglasses by Adam Selman x Le Specs, and a wide-brim sun hat by Jacquemus.
3. Cardi B's Fashion Nova Dress
The Bronx-born rapper Cardi B made money move this year, but she also paid it forward by continuing to support brands like Fashion Nova, which dressed her back when many high-fashion brands wouldn't. It paid off: According to Google, Fashion Nova was searched for more times than Chanel this year.
4. Nicki Minaj's Jet-Set Getup
"Attention! This is how bad bitches leave London and go to Prague," said Nicki Minaj in a video that would later go viral as the #NickiMinajChallenge. In keeping with her Barbie persona, she wore a pink tracksuit, pink Chanel purse, and pink cargo boots to strut onto a private plane. This is also how bad bitches dress for a flight.
5. Bella Hadid at the Venice Film Festival
Bella Hadid may have gone viral for her sneaker collection this year, but she cleaned up nice, too. If there's one photo that proves that red carpets are a thing of the past, it's this glowing, cinematic shot from the back of a boat on her way to the Venice Film Festival.
6. Beyoncé's Madonna-With-Twins Look
Beyoncé's reveal of her newborn twins, Sir and Rumi Carter, was the fourth most-liked photo on Instagram this year. (First was her pregnancy-announcement photo, which garnered over 11 million likes.) For the occasion, she wore a floral robe by the menswear brand Palomo Spain, which made its Fashion Week debut just last year. Since sharing this photo, Beyoncé's outfit photos have somehow become even more complex.
7. Céline Dion's World Tour
Céline Dion earned her stripes as a fashion icon this year, thanks in part to her outspoken new stylist Law Roach. When asked about wearing a full Balmain python look on a plane, Roach said of Dion: "She will make it work for the look. She's just the quintessential diva. She'll sacrifice her body and endure pain for a beautiful look." Your move, Nicki Minaj.
8. Britney Spears's at-Home Runway
"Who says you can't do fashion week at home?" Not Britney Spears. She proved this year that with the right spacious hallway, the right soundtrack, and the right walk — plus a hair flip — there was absolutely no reason to attend runway shows anywhere in the world. We tend to agree.
9. Solange's Subtle Shine
Solange's Instagram felt like a dream this year. The unparalleled ease with which she styles and photographs herself makes it almost too good to be true. But you can't fake effortlessness like this. While there were a number of original outfits to chose from this year, this one in particular – where Solange wears a dress from Shayne Oliver's first collection for Helmut Lang – stood out for its casual glow.
10. Tracee Ellis Ross's "Ugly" Sneakers
"Don't make fun of my shoes," wrote Tracee Ellis Ross in the caption for this instant internet hit. Ross was clearly aware that the Balenciaga Triple S sneakers on her feet were being called "ugly" across the fashion world. But no matter! Ross was feelin' herself, as a true fashion diva does.
11. Kim Kardashian's Yeezy Shoot
Kim Kardashian not only usurped the red carpet this year, but also fashion month altogether. And we don't mean that she set up an impromptu runway in her living room like Britney Spears. No, Kardashian disrupted an entire industry that, whether it likes to admit it or not, depends on her presence. Instead of hosting a Yeezy show this season, Kim modeled her husband Kanye's new Season Six collection, and then posted the entire look book on her various feeds. Calabasas is the new catwalk.