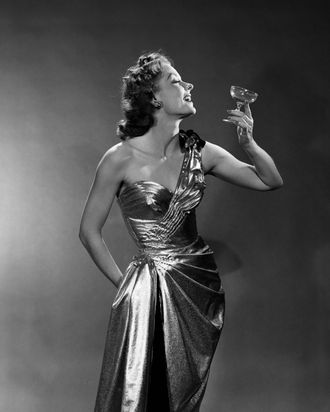 Photo: Debrocke/ClassicStock/Getty Images
Should office holiday parties be abolished? Possibly. Will you still use yours as an excuse to get dressed up and indulge in those two drinks? Most likely. It's hard to go from the workday to an evening out when you've only got 15 minutes to prep, so we polled hairstylists and makeup artists for their best quick beauty and hair hacks, then bundled them with our own advice. Read on for 11 tips for getting ready in the company bathroom.
1. Do Not Attempt a Smoky Eye
At the beginning of my career, I wore a complete smoky eye to several office parties on the mistaken belief that it was "festive." I blame the beauty industry for constantly producing more eye-shadow quads. Like someone intent on using all the parts of the buffalo, I took it as a personal challenge to incorporate all four quad shades into a look. It was a lot of look.
But over the years I came to my senses and realized that doing a smokey eye for a work party was sort of like whipping out a ball gown for brunch. Unless you are a fabulously over-the-top, eccentric person and your office cultivates that, you don't have to use your party as an opportunity to transform. It's fine if you look like yourself, just a little fancier.
2. Do Highlight Your Skin
Makeup artist Benjamin Puckey suggests using some shimmery highlighter to make your skin look fresh. A creamy highlighter is ideal because it won't look cakey even in a dry office environment. Apply the highlighter in a half C above the cheekbones and in the inner eye corners.
3. Pick a Lipstick That Will Last
For a lipstick that will survive the night without looking parched, try a long-lasting liquid lipstick, suggests Puckey. Since they contain little oil, they really cling. If you want to extend the wear of a lipstick you already own, use a lip pencil to fill in the entire lip and then apply lipstick on top.
4. Use Blush to Look More Awake
After a day in a cubicle, we're all a little gray. Dot a little cream blush onto your cheeks for what Puckey calls a "great pick-me-up." You can also use a cream lipstick on your cheeks.
The last thing you want is a forehead that reflects the flash of the company-sponsored photo booth. Pack a blotting paper to keep shine under control, and use it on your nose, forehead, chin, and in between your eyebrows. If you forget one, senior beauty editor Ashley Weatherford suggests using a toilet seat cover in a pinch.
6. Strategically Deploy Dry Shampoo
If you want to be the most popular woman in the bathroom, be the one with the dry shampoo. But don't just spray it in one place: Hairstylist John D suggests that you hit your hairline, your part, and even the back of your head.
7. Use a Teen Trick for Bigger Hair
Flip your head upside down and brush your hair. I read this trick in Seventeen growing up and it still holds up. When you flip your head back, wait till the layers fall back into place and then add a little hairspray to maintain the fullness.
8. Get Waves Without a Curling Iron
Wet your hands and pull your hair up into a loose bun. John D explains that the water "activates" the hair. Do not soak your head — you want your hair to be just barely damp. Twist it up and let the moisture dry off for about ten minutes, and your hair will be left with an undulating wave. (Here's a GIF tutorial that shows you a more extensive version of this trick.)
9. Get Curls Without a Curling Iron
If you have curly hair, run your hands under water and spritz it through your hair. Gently scrunch the curls using your hands to wake them up. "It helps activate the curls and makes them look really nice," John D says.
10. Ground Your Flyaways Without Hair Spray
You might not have hair products lying around, but someone in your office surely has hand lotion. If you have baby hairs that stick out, coat your hands with said lotion and then pat your hair down. "The hairs are lying straight up because they're a little dry, so you can use that to moisturize them so they lie flat," explains John D.
11. Tie a Ribbon Around It
A ribbon ponytail or bun is the rare hair style that is actually as easy as it looks. Sure, you can tease your hair or backcomb it for the full runway effect, but you could also just tie a bow around your hair and call it a day. Hairstylist Michael Angelo of Wonderland Beauty Parlor says a ribbon "instantly elevates a look."
The key is to use a nice, luxurious-looking ribbon and make sure the ends are cut sharply — if they don't look frayed or bedraggled, neither will you.