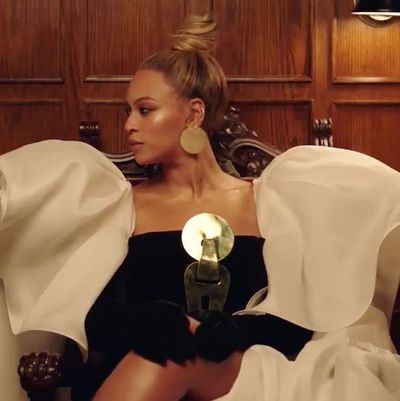 Jay-Z's music video for "Family Feud" dropped last Friday.
Photo: Twitter/TIDAL
Jay-Z finally dropped his highly anticipated music video for "Family Feud," which was the perfect way to close out this ridiculously long year. Featuring appearances from Mindy Kaling, America Ferrera, Constance Wu, Janet Mock, Michael B. Jordan, Rosario Dawson, Rashida Jones, and Brie Larson — and directed by none other than Ava DuVernay — the stunning film gives off major Godfather vibes.
Since the video's release this past Friday, Beyoncé and DuVernay have shared some behind-the-scene photos that are as striking as the video itself. Putting Instagram's slideshow feature to good use, Beyoncé gave us 12 photos of herself, Jay-Z, and Blue Ivy.
DuVernay chose to share her pics on Twitter, which captured more of the filmmaking process.
Chastain, who plays either a journalist or a lawyer in the video, also shared a photo on Instagram.
If you have not done so already, watch the full music video here.