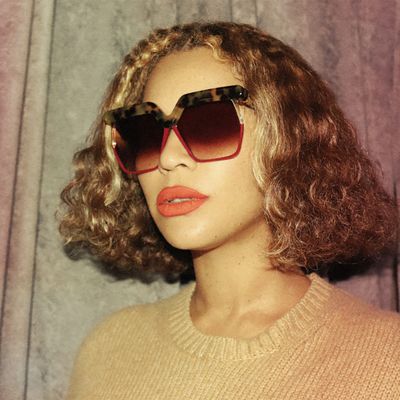 A month after Beyoncé accessorized with a butt-long ponytail, the singer brought back another of her classic looks: the mom cut. Curly, nearly chin-length, and highlighted in gold, the style appeared in Beyoncé's most recent photo drop on her site, beyonce.com. You'll recall that she debuted a similar style three years ago after wrapping up the world tour for her self-titled album.
Beyoncé upped the ante with mom cut 2.0. Jay-Z, the ultimate Instagram husband, snapped her in the new style while the two yachted in Miami. Another set of photos show the singer backstage at Quicken Loans Arena in Cleveland.
However, there's one mom who might not be thrilled about the new look. Just last week, Tina Knowles shared an image of Beyoncé with much longer hair, writing: "So happy my baby's hair grew back !!" Well, you can't win them all.