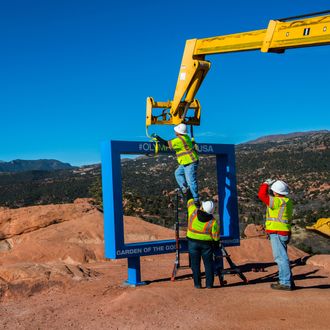 The frame being removed.
Photo: CHRISTIAN MURDOCK/AP
This is a story of loud determination. It's a story of a local-government mishap and what happens when enough people band together to complain about something. It's the story of the Big Blue Frame.
Per NPR, the 8-by-12-foot frame was first installed in Garden of the Gods Park in Colorado Springs, Colorado last week. The local government meant to publicize the city as "Olympic City USA" (it houses the U.S. Olympic Training Center) in "a whimsical and fun way for residents and tourists alike." What they did was unleash the anger and fury of thousands who thought it was an eyesore in a natural landscape.
Take, for instance, when the Colorado Springs City Government posted a photo of two people dressed as Mr. and Mrs. Claus posing in front of the frame and the Facebook comments started rolling in. "Oh, the city wants us to "embrace" the frame … I feel like we have all been framed," wrote a one Marsha Baxter. "Frame is trash," Matt Hernandez weighed in. Jenny Bee added, "No matter how much they push this or try to sugar coat it because it was our mayors wife's pet project, this thing is FUGLY and disrespectful to the natural surroundings." Over 20,000 people signed a Change.org petition calling for the "ugly blue" frame's removal.
On Monday, the frame was removed after what KRCC calls "days of sustained outrage." The city released a statement as the frame was taken down, saying it was thought up by "marketing advisers," which sounds exactly right. And thus concludes Big Blue Framegate.