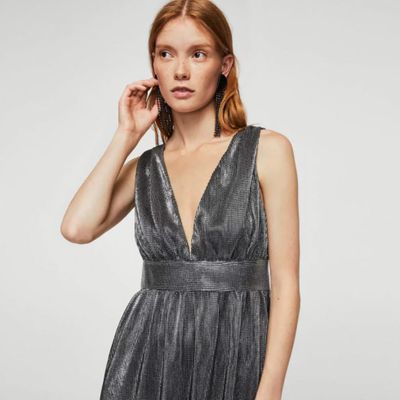 There are the holiday parties you can prepare for by throwing on lipstick and a big pair of earrings at your desk before you run out the door. And then there are the holiday events with dress codes written on the invitation, for which you could easily spend hundreds of dollars on a gown. If you've got a cocktail party or a gala on the calendar and are already wincing at what it's going to do to your budget, allow us to help. We've rounded up seven dresses under $100 that you could respectably wear to a fancy event, whether it's cocktails or an out-and-out gala.
Put a bodysuit under this festive little number if you're the sort of person who's always cold.
You don't have to buy a ballgown if you're going to a gala. Just get a simple black gown, then dress it up with accessories you already have.
It's red. It's ruffled. And it's begging to go dancing.
If Your Co-Workers Will Be There
It's not too short or too revealing, but the see-through lace sleeves add a chic touch.
If You Want to Feel Like a Bombshell
This body-con scuba dress would be especially fun on New Year's Eve.
A Gown You Could Wear a Thousand Times
Perfect for any evening event that feels a bit more conservative.
The billowed sleeves and front slit make it feel a little unusual.
If you buy something through our links, New York may earn an affiliate commission.