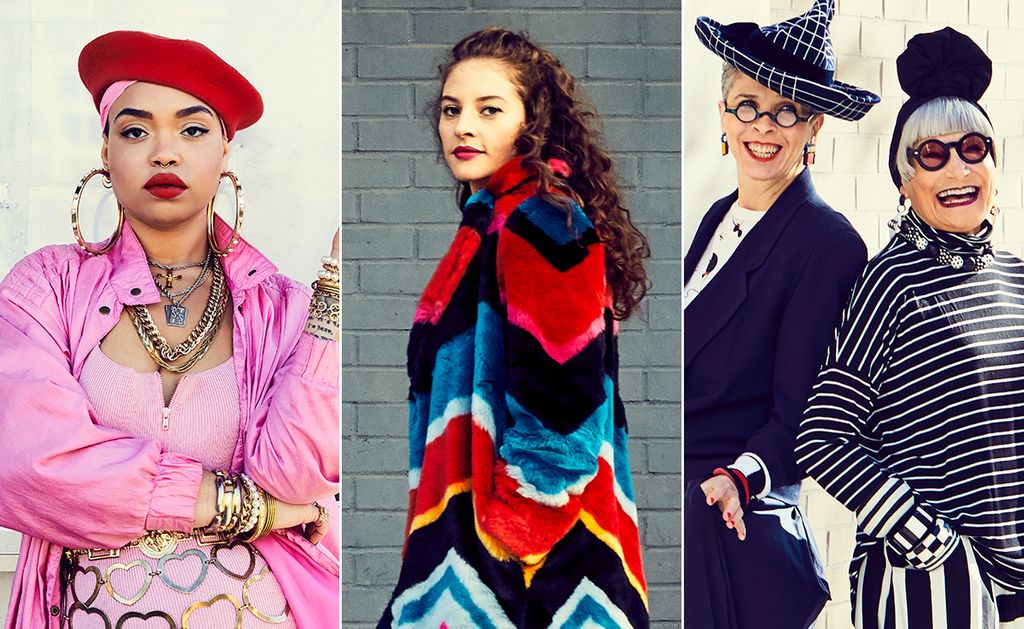 All of us have done a double-take at a supremely dressed woman passing us on a drab block or sitting across from us on the subway. A woman whose style is not only exceptional, but also a little (or very) out there. Below, meet four such stylish New Yorkers – women who boldly ignore fashion norms, relying on their own creativity over prescribed rules and trends. For Flour Shop owner Amirah Kassem, stylist Jaraé Holieway, and style bloggers Jean and Valerie, peacock-dressing is an everyday event. Inspired by the Katy Perry Collections' quirky-chic, statement-making footwear, we discovered how each has achieved her fearlessly extravagant style, and how anyone else can do the same.
A native of Long Beach, California, Jaraé Holieway is a stylist, model, artist, personal shopper, and bonafide Instagram star who's now based in Brooklyn.
Describe your personal style for us.
Forever evolving and colorful. I base my outfit on the mood I'm in and from there I pick a color that goes with that mood. It's a mix of funky and sophisticated, with elements of vintage, thrift, and second-hand. A lot of pieces in my wardrobe are relevant to the time period when it was designed, but also relevant today.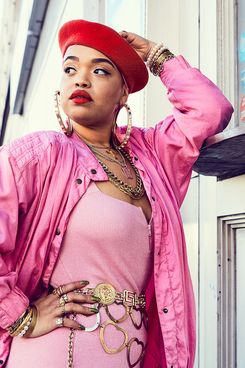 How do you keep the 'Jaraé' in your look?
When I first moved here, I needed to bring more color to New York. I was the person in L.A. wearing a royal blue coat in 80-degree weather just because it looked good. When somebody wears bright colors in NYC, people either don't pay attention, or they look at you like you walked out of some wacky cartoon. And then there are people who come up to you and get excited that you're wearing all yellow or red or orange. It makes people happy, especially in depressing weather.
Your style pushes boundaries despite the limits of city life: It's expensive, closets are tiny, and you're on your feet a ton.
In New York, comfortable shoes are crucial. I base all my outfits around my footwear now. But I still try to make my outfits adventurous and expressive, and a representation of who I am and where I'm from. I also want to show people that you can achieve a really cool, unique style even if you don't have a lot of money or you're young or a struggling artist. Accessories are a big part of that. I've learned that more is more, and you can honestly do whatever you want. I'm into wearing belts as necklaces or chokers, and putting clip-on earrings on the lapels of a suit or jacket.
What do you hope people take away from your style example?
More than anything I hope to inspire somebody to take a risk every now and then. The exciting thing about fashion is that you can take risks. I can be shy for someone who has such a loud style, and it's helped me become more comfortable with being myself and being confident and not caring what people think.
Jean & Valerie, Idiosyncratic Fashionistas
Jean and Valerie (who go by first name only in public) are the Idiosyncratic Fashionistas, a pair of eccentric fashion bloggers – and friends – whose mission, they say, is to set a "bad, bad example for older women everywhere."
How would you describe your style to a blind date before meeting?
Valerie: My wardrobe tends to be graphic, architectural, and textural. I love clothes that make people do a double-take. I'd say, 'Look for a woman wearing a good hat.'
Jean: 'Goth meets Sunset Boulevard.' I wear a lot of designer — from vintage, consignment, and sample sales — and craft-show clothing. And hats in black, with more black, black and white, or colored bakelite and resin accessories.
How did that style evolve into what it is today?
Jean: In high school, I was very preppy, like all of my friends. In college, I began to develop my own taste, wearing Betsey Johnson for Alley Cat, Norma Kamali, and Marimekko when I could find and afford them. After I moved to New York in the mid '70s, I had access to independent designer boutiques, to stores like Henri Bendel, Bergdorf Goodman, Charivari, and Barneys, and to European, Japanese, Israeli and Scandinavian designers. I appropriated pieces of a variety of looks — 1970s punk, 1980s power suits, 1990s Euro-trash — to my own body and lifestyle.
Valerie: The biggest influence on my style philosophy came from living in Japan in the 1980s. The color palette there was completely different, and Japanese designers back then were at the peak of their creativity. They jettisoned all the rules, and I embraced that way of thinking. A willingness to experiment has allowed me to find clothes that other people don't see, even when we're looking at the same thing.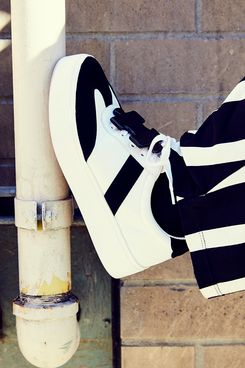 What are you inspired by when it comes to getting dressed?
Jean: Dressing well makes me feel good. People shouldn't stress out about dressing. It can't be an exercise in trying to look a certain way — it either works or it doesn't. Among my many style icons are Isabella Blow and designer Andrée Putnam, who was a fixture in downtown nightlife in the 1970s and 1980s. They are two women who, although not classically beautiful, had undeniable presence and style.
Valerie: I'm inspired by the late Leigh Bowery and Grace Jones because of their flair for taking things out of context and creating something completely new and unexpected. Their joy and pleasure in their clothes is evident. And, among the best advice I ever got was not to go by the way clothing looks on the hanger.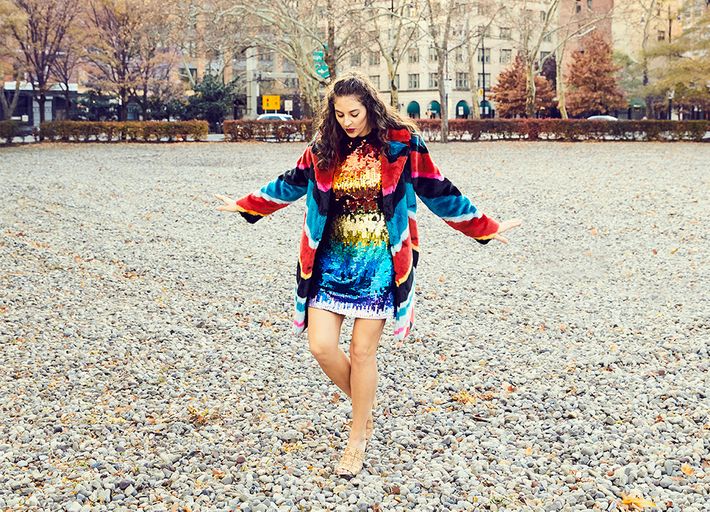 Baker and dessert fiend Amirah Kassem is the proprietor of Flour Shop, a custom cakes company famous for its exuberant, eye-popping designs. Kassem and her husband recently opened Flour Shop's first brick-and-mortar bakery in Soho.
Who is your ultimate style inspiration?
Rainbow Bright is iconic forever. I'm also inspired by kids. When I see little girls with glitter sneakers and cool backpacks, I'm bummed kids' clothes don't fit me.
Your look is very youthful and playful. Is it in defiance of 'adulthood'?
I've always dressed this way! My friends laugh whenever they see pictures of me of when I was little – they'll say, 'Don't you still have that outfit?' When I'm baking, I'm in overalls and pants and fun T-shirts that I probably wore when I was little. But when I'm going out, I love dressing up with colors, furry things, and sparkles.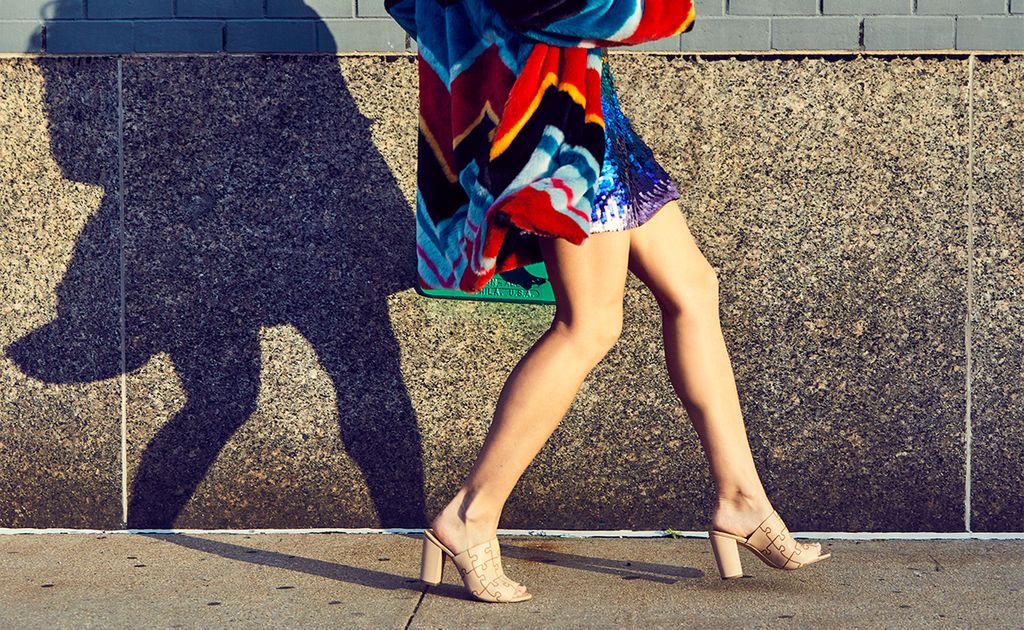 Do you experience any tension between the way you express yourself appearance-wise and external pressures to tone things down?
In New York, especially in the winter, everyone starts wearing black and dark colors. It's backwards because it's the season for white snow and pretty colors. My mood and job is based on working with sprinkles all day and cakes. My office and store are rainbow. [It all reflects] my state of mind – I still eat ice cream for breakfast, I play with bubbles, and I eat cake every day. So it's more of a lifestyle than it is a style.
What's your shopping strategy?
I rarely hunt for a new thing or think that I'm missing this one piece in my wardrobe. If something catches my eye, I'll go, 'It sparkles, I have to have it.' A lot of my friends will say, 'I saw this hamburger T-shirt from the J.Crew kids collection and thought of you' and that's how I end up buying something. When friends send gifts, I always get the one crazy piece – the pink sunglasses or the really bright item. People say, 'You could pull it off,' which really means I'm crazy enough to wear it.
Do you find that flattering or frustrating?
It is 100-percent flattering. It's about feeling confident enough to wear something, whether others like it or not, and to feel like your best self. I grew up in Mexico where even the houses were all these different colors. It's hard to be in New York where the buildings are brick and the look is more chic and downtown, with dark colors and high-end products. I dress to balance off. Things don't have to be so serious, and a mixture of fun, playful colors can also be considered timeless.
Your new store in Soho seems like the perfect colorful paradise for you.
It's floor-to-floor, wall-to-wall, rainbows. We have a 25-foot counter, all glitter, and rainbow cakes, sprinkle cakes, unicorn cakes, cake push-pops. We have waffle-cone coffee that's pink and fun. We have sprinkle mixes. It's my Instagram dream.
Shop Katy Perry Collections
Production Credits
Photography by Meredith Jenks
Art Direction by Aria McManus
Hair and Makeup by Priscilla Poole
Hair and Makeup Assistance by Dori Sligh
This is paid content produced for an advertiser by New York Brand Studio. The editorial staff of The Cut did not play a role in its creation.