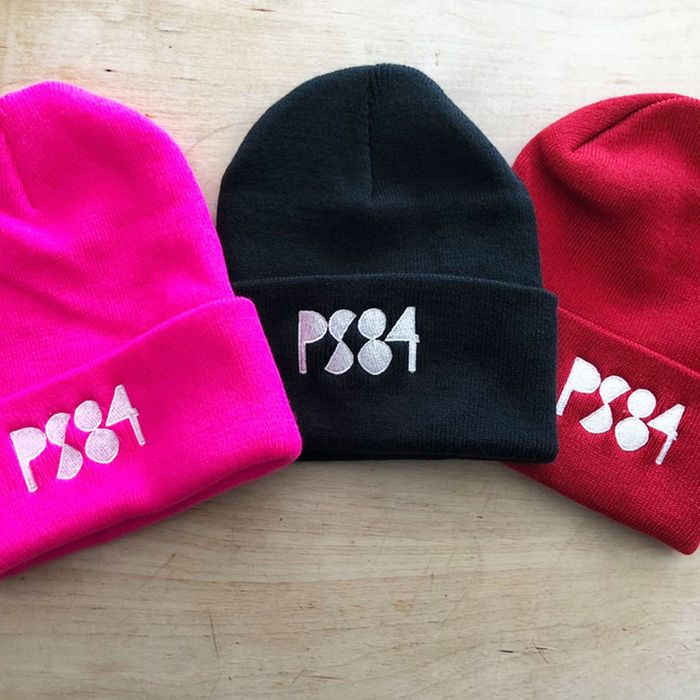 Swag from PS 84 in Williamsburg, Brooklyn.
Photo: Courtesy of Facebook/PS84Parents
While many of us are opting to wear Drake-related jackets while drinking Drake-related whiskey this winter, it turns out the hottest merch of the season is actually coming from a different (and unlikely) source: PTA moms in Williamsburg, Brooklyn.
As the New York Post reports, a group of moms on the PTA at PS 84 elementary school ditched the school's old "standard-issue logo" for modern graphic designs with "retro flare." The new branding is appearing on T-shirts, track suits, totes (of course), and hats — and apparently, fashionistas across the city have taken notice. Per the Post:
"People come up to us in different neighborhoods and ask us, 'What's PS 84?' " says Sarah Srygley, one of the PTA co-chairs, who freelances for Finnish fashion maker Marimekko.
The designs were apparently inspired by Supreme (which recently opened a store steps away from the school), as well as Brooklyn street style in general. The apparel ranges in price from $10 to $40, and proceeds go toward enrichment programs at the school, including the rooftop garden, musical instruments, and karate lessons. And, the Post notes that demands for the goods — which have been sold at events like the school's holiday market — is so great, the PTA is considering opening an online store.
Sounds like this PS 84 swag is poised to become the new New Yorker tote bag of Brooklyn.