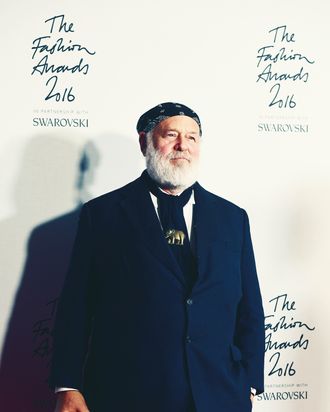 Bruce Weber.
Photo: Stuart C. Wilson/Getty Images
According to the Post, male model Jason Boyce is suing famous fashion photographer Bruce Weber for inappropriate touching during a casting session that took place in December 2014 at Weber's apartment. At the time, Boyce was 28, and Weber was 68.
As court papers apparently detail, Boyce is accusing Weber of pressuring him to remove his clothes and ultimately forcing him to rub his own genitals because he looked "tense."
Weber allegedly whispered, "If you just had confidence, you'd go really far" and "How far do you want to make it? How ambitious are you?" says the suit.
Boyce also alleges that Weber put his fingers in his mouth and kissed him on his way out of the apartment. In the aftermath of this encounter, Boyce says he experienced anxiety, depression, and high levels of stress, which lead him to move back to California and never return to New York.
"Upon information and belief, Mr. Weber has engaged in similar conduct with other male models referred to him by Mr. Kanner and Soul Artist, and Mr. Kanner and Soul Artist are aware of such conduct," Boyce says in court papers.
Mr. Weber himself has yet to publicly respond to the suit.