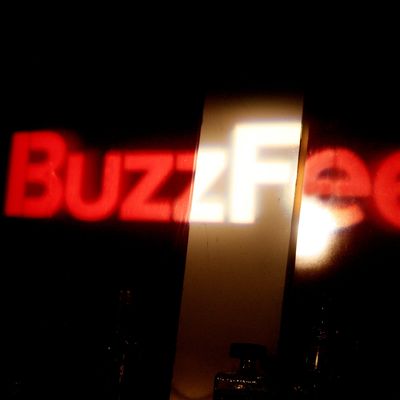 BuzzFeed.
Photo: Andy Kropa/Invision/AP
BuzzFeed fired its White House correspondent Adrian Carrasquillo on Wednesday after an internal investigation over alleged inappropriate comments made to a colleague, Business Insider reports.
BuzzFeed has been investigating a number of its employees since several of their names appeared on the so-called "Shitty Media Men" list — a Google spreadsheet of unverified allegations of sexual harassment and assault against men in media and publishing. Business Insider reports Carrasquillo's name appeared on a version that list, and that he was fired after a new complaint was filed against him, which included evidence of inappropriate remarks.
"In responding to a complaint filed last week by an employee, we learned that Adrian violated our Code of Conduct by sending an inappropriate message to a colleague," a BuzzFeed spokesperson told Business Insider. "This followed a reminder about our prohibition against inappropriate communications."
The "Shitty Media Men" list circulated briefly in October in the wake of sexual-harassment and assault allegations against Harvey Weinstein. The anonymous, crowdsourced spreadsheet was initially meant to be shared privately by women working in media and publishing, though its existence was first reported by BuzzFeed. The list eventually named 74 men, with allegations spanning from creepy DMs to sexual assault, before being deleted. (The Paris Review editor Lorin Stein resigned earlier this month amid an internal investigation that was sparked by his appearance on the list.)
"We are saddened by these circumstances, but we take these issues extremely seriously," the company spokesperson said of Carrasquillo's termination. "We're committed to ensuring that BuzzFeed remains a place where everyone is treated respectfully by his or her peers."