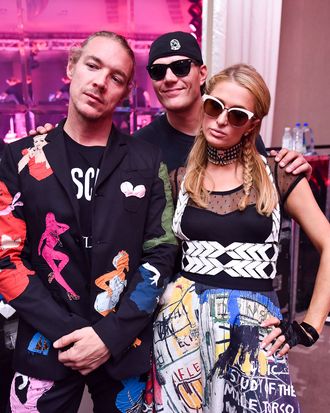 Photo: Griffin Lipson/BFA.com/Griffin Lipson/BFA.com
Welcome to This Party Had Everything, our recap of the wildest or most beautiful party look from last night.
This party had everything: leather ski masks, formal Bermuda shorts, glitter … and look who just walked in, to the right, is that a Coachella gladiator? No, it was Paris Hilton secretly wearing that sheer dress you had in college! And a white harness top that looked comfortable, Catwoman gloves, a medieval choker … plus, if you like tacky things, Diplo was right next to her and her boyfriend Chris Zylka, with nude women printed all over his suit. They partied together at the annual Moschino Miami bash, where Cardi B performed. I love parties!
Outrageous peacock-dressing was out in full force — this was a Moschino party and it's just what you do! Rivaling Hilton's ambitious combination of clothing, model/self-described astronaut Slick Woods showed up in a flame-red tutu with a western belt, Matrix sunglasses, and lots of heavy jewelry. Fabulous!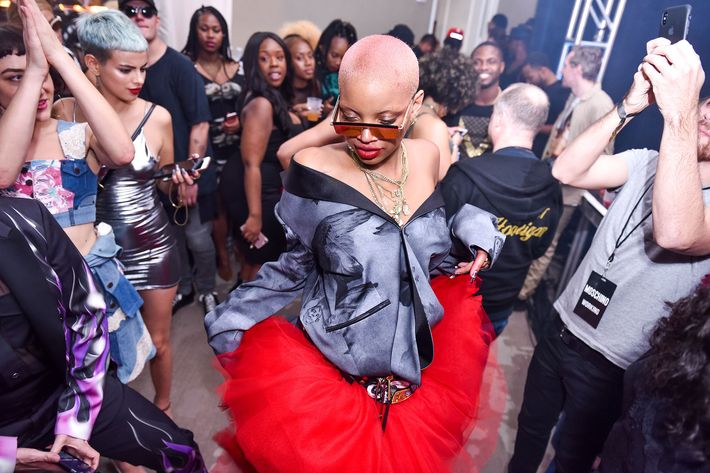 And is it even a party if there isn't at least one sequin dress? Not at Art Basel! Cardi B delivered onstage in a ruffled gold mini that matched her blonde wig perfectly. At first glance, maybe you thought party host Jeremy Scott was wearing all black. But actually, his suit had ultra-violet flames — Pantone's color of the year! Who else can pull off a sheer dress shirt, gold chains, and glossy combat boots? Scott knows how to throw a bracingly eclectic party. Just pull some clothes in every color of the rainbow from your closet and go!