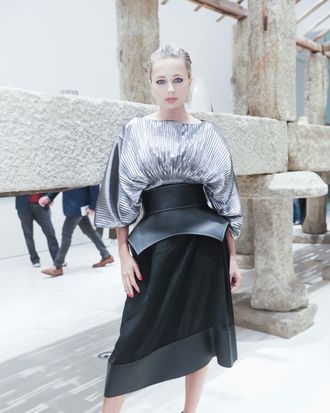 Caroline Vreeland!
Photo: Charles Roussel/BFA
Welcome to This Party Had Everything, our recap of the wildest or most beautiful party look from last night.
This party had everything: stone ruins, couture, elaborate headpieces … and look who just walked in, is that a Martian gladiator? No, it was Caroline Vreeland wearing a silver top that looked like half a disco ball! Plus, if you like Renaissance influences, she wore it with a corset and a midi skirt. She wore this inventive look at the Chance Encounters III exhibit opening hosted by Loewe at their Miami store. I love parties!
The second-best look of the night belonged to Loewe designer Jonathan Anderson, who rocked a pair of drawstring pants and a blue button-down shirt — innovative! Is it even a fashion party if there isn't a drastically underdressed man wandering around the peacocks with great orange hair? Other sartorial highlights, in addition to Vreeland's space-age ensemble, included a red-and-white headdress that evoked Frida Kahlo (paired with a lip print dress), a very sparkly black beret embellished in gold, and a fringe fur cape … or just a fringe fur coat worn as a cape. Who's to say.
Partygoers chit-chatted and looked at the ruins, black-and-white photography, and Loewe dresses. The exhibit, "Chance Encounters III," is on view at Loewe until February 4 and features artists Sara Flynn, Richard Smith, and photography by Lionel Wendt, a pianist and photographer who took photos of his native Sri Lanka. At the party, waiters passed around fruit kebabs that were hopefully followed by copious amounts of Champagne.