During his time at Chanel, Karl Lagerfeld has earned his stripes as the unofficial king of Paris. But the 84-year-old designer is originally from Hamburg, Germany, where, believe it or not, his father owned a company that produced and imported evaporated milk.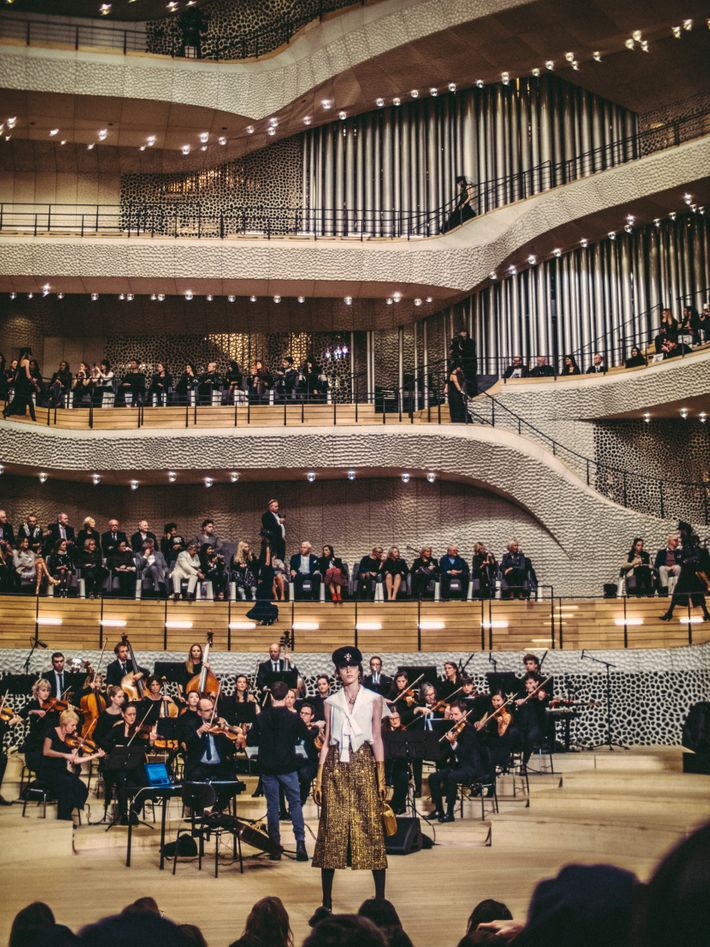 On Wednesday, Lagerfeld took Chanel home to Hamburg for the first time ever, showing his Métiers d'Art pre-fall 2018 show inside the city's stunning Elbphilharmonie concert hall. Designed by modern Swiss architects Herzog & de Meuron to mimic the waves of the Hamburg harbor below, the space comfortably housed Chanel's over 1,400 guests, including Tilda Swinton, Kristen Stewart, and Lily-Rose Depp.
The Resonanz orchestra performed live as models like Kaia Gerber (Cindy Crawford's daughter) snaked their way around the cylindrical space. In case you were seated in the "nosebleeds," each seat was provided with opera glasses to take in the full view. Anna Ewers, a German model, opened the show in a black knitwear ensemble, complete with leg warmers, an accordion-shaped bag, and a wool sailor cap, or an elbesegler in German.
The collection as a whole was a nod to nautical themes, as Hamburg was once a popular port on the River Elbe. Men sported wide-leg sailor trousers and navy cable knits, while women wore wide collars, culottes, and stripes. Mod miniskirts and intricate knitwear were also sprinkled throughout, plus some elegant evening pieces with pearl bow heels and velvet tuxedos. For the finale, Lagerfeld came out with his favorite stylish child, Hudson Kroenig, who wore a mini-tuxedo himself.
Of course, Chanel wouldn't bring guests like Tilda Swinton all the way to Hamburg without showing them a good German time. At the after-party to follow, guests were greeted by singing sailors at the entrance. Inside, musclemen arm-wrestled and there was even a station for anchor tattoos, if you wanted to surprise your friends and family upon returning home. Fish was served and Champagne, as well as beer, flowed all night. This, according to Karl Lagerfeld, is how you throw a homecoming party.