He may have preached anti-materialism, but Charles Manson practiced a kind of Satanic commercialism. Like fashion's best marketers, he knew how to turn his vision — and himself — into a distinctive product, how to incite desire for that product, and how to use people's desires — to be special, to belong, to be superior — to fuel his own agenda.
That Manson succeeded in becoming a replicable and attractive commodity is proven by pop culture's unbroken devotion to retelling his story. Over the past few years — as if alerted by some secret signal to his impending demise — Manson fever went into overdrive, producing Manson's Lost Girls (on Lifetime), Aquarius (NBC), Manson Family Vacation (Netflix), Charles Manson's Hollywood (Karina Longworth's 12-part podcast), and Emma Kline's debut novel, The Girls. Just two days before Manson's death, Quentin Tarantino — king of cinema's glam-violent genre — signed a multi-million-dollar deal to produce a biopic about him.
The fashion world in particular remains fascinated with 1960s-era upheaval and the attendant theme of defiled innocence. Manson and his world hover over contemporary fashion. Creature of Comfort's shapeless smocks and ankle-length tunics, for example, would feel a lot less chic if they didn't evoke the edgy ghosts of the Manson girls in similar garb. And Raf Simons, in his spring 2018 RTW show for Calvin Klein 205W39NYC, conjured retro horror and '60s counter-culture motifs. Clothes and accessories were silk-screened with Andy Warhol photos of an electric chair, tainted tuna cans, or car crashes; a satin baby-doll dress was polka-dotted with red splotches resembling bloodstains. Simons succinctly described the collection as "American horror, American dreams."
Simons was mining a style language in which Charles Manson was very fluent — a combination of youthful sweetness and shocking violence, war and peace, love-ins and murder. Manson understood the great power in yoking together opposites in this way. In fact, Manson weaponized style — its surface, as manifested in fashion or cultural trends, but also its structure, the way it reproduces itself via contagion or imitation.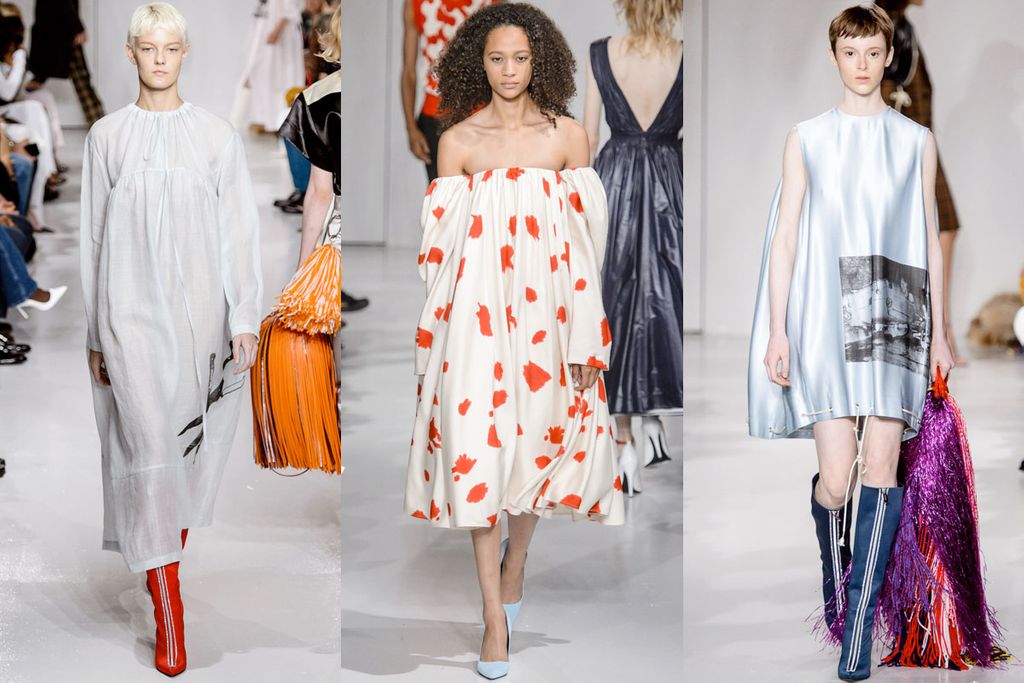 Recognizing the magnetic allure of the counter-culture, Manson embraced its look and feel, adopting its anti-chic aesthetic of denim and leather, long hair and bare feet, as well as its gauzy spirituality and free love. ("He looked just like one of us," a Rolling Stone reporter wrote in 1970.) He styled himself as a hippy Christ, even somehow willing his face into a plausible — if chilling — variation of Jesus's visage: cut cheekbones, intense dark eyes, and flowing dark hair and beard.
But Manson used it all to cloak his own, toxic and violent enterprise. By claiming the youth-quake for himself, by imitating its style, Manson turned around and managed to create his own movement, convincing dozens of followers to imitate him, to regard him as their messiah, and sign away their lives to his squalid and criminal commune.
It didn't matter that Manson's 'philosophy' was little more than an amalgam of rock lyrics, white supremacy, the Dale Carnegie method (picked up during a jail stint), Scientology, and tips scored from pimps on how to manipulate broken young women (it involved alternating sweet-talk and serious abuse). It didn't even matter that later, this philosophy began incorporating Satanic blood rituals and mock crucifixions (with Charlie strapped to a cross). What mattered was that Manson knew how to cull the most appealing aspects of the Zeitgeist, turn them to his own purposes, and wear them like a convincing disguise.
What's more, he operated like a kind of vampire of style. Manson figured out how to clothe his sect in the same disguise — that same aura of hippy beatitude. His wan female followers, some as young as 14, with their long loose gingham and stringy hair, might have looked like any kids hanging around Haight Ashbury, but they were not the youthful free spirits they seemed to be. The girls were virtual zombies, kept half-starved, filthy (they rarely had indoor plumbing), tripping on acid, and brainwashed into sexual servitude to Manson. Having absorbed and embodied his deranged dogma, they were then required — like a vampire's victims — to go out and spread it like a contagious virus, to seek out and seduce other vulnerable women into joining their network of hypnotized acolytes.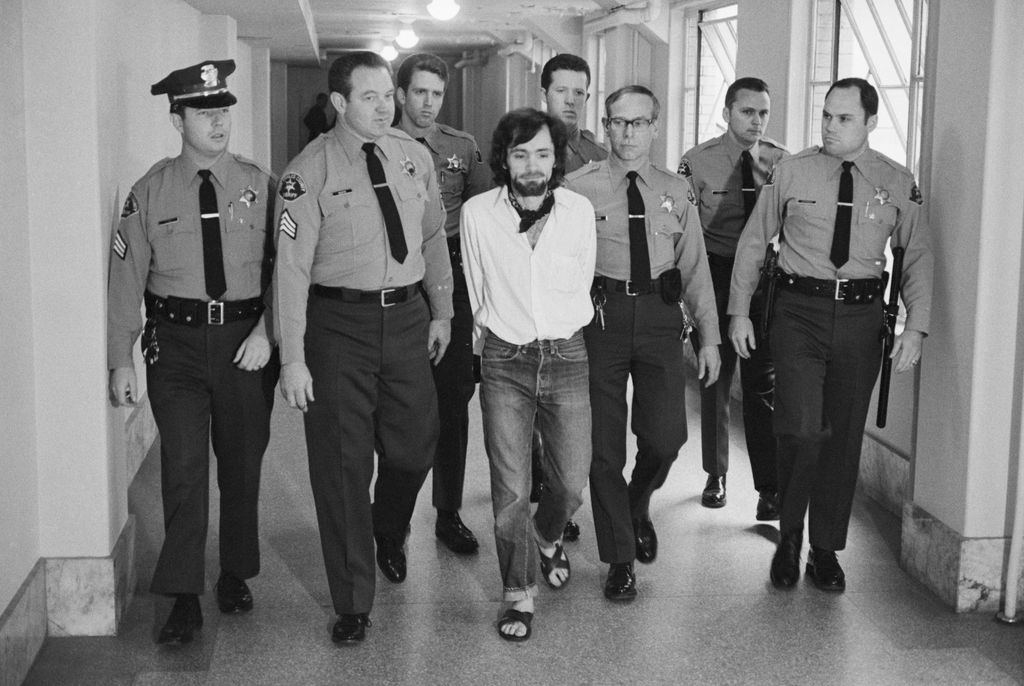 Of course, the power of any style always contains an element of the vampiric: someone with a compelling look or trend attracts imitators who in turn infect others who are then transformed into still more imitators. Manson drew out and intensified this innate vampirism in style, tricking it out with a creepy, occult religiosity that proved highly effective with lost young women. Armed with this particular brand of style vampirism — in both fashion and ideology — Manson built a cult that looked like Woodstock but felt like Jonestown (although both events had yet to happen).
Such cinematic aspirations reached their gruesome climax in the Tate-LaBianca murders, which Manson planned like a film director, issuing precise instructions while remaining behind the scenes. He was not present at the massacre of pregnant actress Sharon Tate (wife of Roman Polanski) and her house guests, but he visited the crime scene later that same night to add further cinematic touches, such as draping an American flag near Tate's mutilated body.
Of Manson's seven victims, Sharon Tate remains his most iconic. Her knockout beauty, movie-star glamour, and tragically never-born baby turned her into a pop-culture Madonna, which has helped sustain Manson's ongoing fame along with her own. His crimes, however ghastly, are forever linked in our imagination with memory flashes of Sharon Tate — a near perfect hybrid of the many disparate elements of 1960s style: wide-eyed, angelic beauty and seductive femme fatale (star of the racy Valley of the Dolls as well as one of Polanski's vampire movies), martyred mother-to-be and drug-using wife of a debauched director (Polanski later famously faced charges of statutory rape).
Once they were arrested and thrust into the limelight, even 'Charlie's girls,' as they were called, homespun as they were, grew aware their own status as style icons, agreeing to wear matching dresses or shave their heads to make a statement. Joan Didion, who came to know Manson girl Linda Kasabian while chronicling the trial, writes in The White Album of shopping in Beverly Hills — at Kasabian's request — for dresses Linda could wear in court. Kasabian's written instructions to Didion were as precise and self-aware as any actress': "Mini but not extremely mini. In velvet if possible. Emerald green."
That Didion, esteemed screenwriter and a member of Hollywood royalty, agreed to help costume Kasabian proves just how deeply the Manson cult had enmeshed itself in pop-culture society. And Kasabian's interest in wearing a fetching (but not-too-short) velvet mini-dress, in presenting herself as charmingly mod (as opposed to, say, a freakish cult member), proves how well the family understood its historical fashion moment, having learned, under Charlie's tutelage, to absorb and reflect Hollywood style for their own ends.
To this day, even in death, Manson continues to hold a dark and revealing mirror up to some of America's grimmest flaws: a susceptibility to charismatic, manipulative leaders; misogyny, racism, and anti-Semitism. But he also reflected our fascination with youth, with beauty, with style, and with the glitzy, gilded fantasies of pop culture.
In fact, Manson demonstrates just how interwoven our flaws are with our fantasies. America has long prided itself on its virtue, its Norman Rockwell normalcy. But we remain aware of, and drawn to the flip side, to the complexities lurking just beneath the surface — the shock and danger of sex and death (witness the constant headlines of powerful but benign-seeming men being exposed as sexual predators).
Manson's story is poised perfectly between the two sides of the American psyche and this is why fashion and pop culture return obsessively to his saga. It encapsulates the titillating proximity of darkness and light, innocence and carnal knowledge. It's as American as a girlish dress in palest blue, embellished with a pair of crossed kitchen knives.
Lede image caption: Manson girl Susan Atkins, who was eventually convicted of murder, leaves the grand jury room.