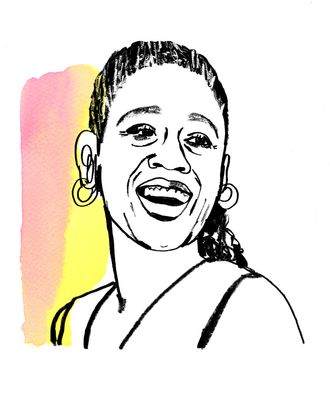 Chirlane McCray.
Illustration: Lauren Tamaki
Chirlane McCray is the First Lady of New York City. She has previously worked as a writer, activist, editor, poet, and more. Lately, she has been focusing her work on pay equity, domestic violence, and mental health. McCray lives in Gracie Mansion on the Upper East Side with her husband, Mayor Bill de Blasio, with whom she has two children, Chiara and Dante. Here, she shares how she gets it done.
My morning routine: When things are going the way I want them to go, I get up between 6:30 and 7 a.m. and we have coffee — he has espresso and I have tea — and for breakfast we have either eggs or oatmeal. Then I get dressed for the gym and jump in the car with my honey, head to Brooklyn, go to the YMCA, and work out for roughly an hour. I do the treadmill, the machine with the arms (I don't know what you call it), stretching, and some free weights. If I have meetings right after at City Hall or somewhere else, I'll bring my clothing with me and change at the gym so I can head straight to my meetings. Or I come back to Gracie and change and do meetings here.
On working out in Brooklyn: Well, you know, it seems like it's quite a hike from the Upper East Side, but the ride to Park Slope is really just 20, 25 minutes. I take the papers with me or whatever I'm reading to prep for the day. But the ride also gives us time to talk and be together, and it's nice to go back to the neighborhood. We really love our Y — we've been going there for decades. I also go to the dry cleaners and pharmacy there, which is very grounding. Because people know us and we're not a novelty to them, we don't get interrupted as often as we might if we went elsewhere.
On life in the public eye: The pace is so much faster, and I have to really keep it moving. I have to always be ready to be on stage because I never know when I'm going to be called on to do something that requires being dressed like a grown-up and be ready to speak.
My management style: I have a very unique working arrangement. I have an office at 253 Broadway, where the Mayor's Fund is located; I have an office downstairs here at Gracie; and when I'm at City Hall, I have a room that I work in where I have my meetings and tend to business. That means that I'm a mobile office. So I like to think that I take a team approach and, yes, I'm the captain, but we've got a lot of co-captains. The people I work with have a lot of responsibility, and I like that.
On activism: I feel like everything I've done in the past has helped me with the work that I do now. Nothing has been wasted, from my work with the women's movement, gay movement, civil rights, mental health. Everything I've done has helped me in the role I'm in now.
On working for pay equity: Pay equity matters because those dollars add up over time. If someone is getting paid a low salary to begin with and then is asked about their salary in the next job, then they're stuck at that level — which is usually lower than men, who tend to make millions and millions of dollars more than women collectively. That is why the city's Commission on Human Rights has said employers cannot ask about previous salary history. Everyone should be paid on the merits, and that information about what they made before is not to be disclosed.
On working in publishing: I worked in publishing my first ten years in New York City — New York was one of the places I worked. I was a marketing research assistant. Before that, I was at Redbook. Now, editing and writing are a big part of what I do. It's very natural for me to write about what I'm doing on pay equity, domestic violence, and health, and to edit and to work on my own speeches. I have people who are working on all of these things, of course, but I feel very much a part of it because I like to put my voice into everything that we send out with my name on it — and I also have my own ideas.
How I get the news: I wish I had more time to read. But one of the advantages of being in public office is that we have press teams and they send us all these clips of articles they think are related to the work that we're doing, so I get clips from a wide variety of newspapers and magazines.
On teaching kids about healthy relationships: Domestic violence is much more prevalent than people realize. A domestic violence survivor looks just like you or me; there's no immunity based on Zip Code, ethnicity, or class. It's important that we educate our young people on how to have a healthy relationship, so I'm very excited about our Healthy Relationship program for middle-school students. We're actually doing workshops with them and teaching them what skills they need to have a healthy relationship, how they can get respect from their partner, and how they want their partner to treat them.
My evening routine: I also don't have a typical evening; tonight, I'm probably going to be in meetings until 10 p.m.. That's not my desired evening, but it's all good. It's really hard to get enough sleep so I try to end my days by 9 p.m. so my husband and I have time to watch TV, chat, and then I like to read for at least half an hour before bed, but we have a lot of events and there are places to go and people to talk to. Right now, we're rewatching The Wire — we're in the third season. I never thought I'd watch the whole thing all over again but it's totally worth doing.
On getting ready for the holidays: We're decorating Gracie and we're going to have many people coming through to see the decorations. And as a family, we just like to have time together during the holidays. We like to just chill, which entails sitting around talking. It doesn't sound really exciting, but we like to just sit around, talk, and eat. Dante's also been talking about board games, so maybe we'll bring in some board games to mix it up.