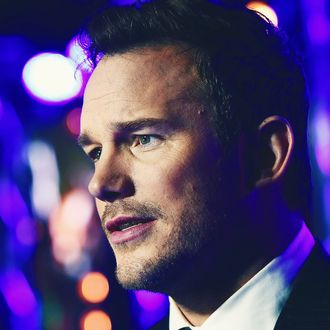 The actual Chris Pratt.
Photo: Ian Gavan/Getty Images for Disney
Anyone who's watched Catfish can tell you it's entirely possible for someone to be tricked into thinking that they're interacting with a celebrity, from Bow Wow to Katy Perry. Considering that — and the long list of sexual-harassment allegations being brought against powerful men right now — Chris Pratt, of the famous Chrises, is here to warn female fans who might be getting any weird messages from someone claiming to be him.
"PERVY DUDE ALERT!!! (Not a joke) It's confirmed: somebody is trying to pretend to be me on Facebook (and maybe other social media platforms) apparently hitting on a lot of different female fans, trying to get their numbers and who knows what else. I'm not joking," Pratt wrote in a lengthy Instagram caption, along with a screengrab of the account page, which features a profile photo of him from Guardians of the Galaxy. "Please know, I find this behavior reprehensible. If I find out who it is I'll have their account shut down and seriously would like to punch them right in the GD mouth."
He also said "many, many people" have told him about this and it's "not an isolated incident."
Per "Page Six," Facebook has since removed the account. And in the future, definitely ignore all messages from anyone claiming to be a guy named Phris Cratt.