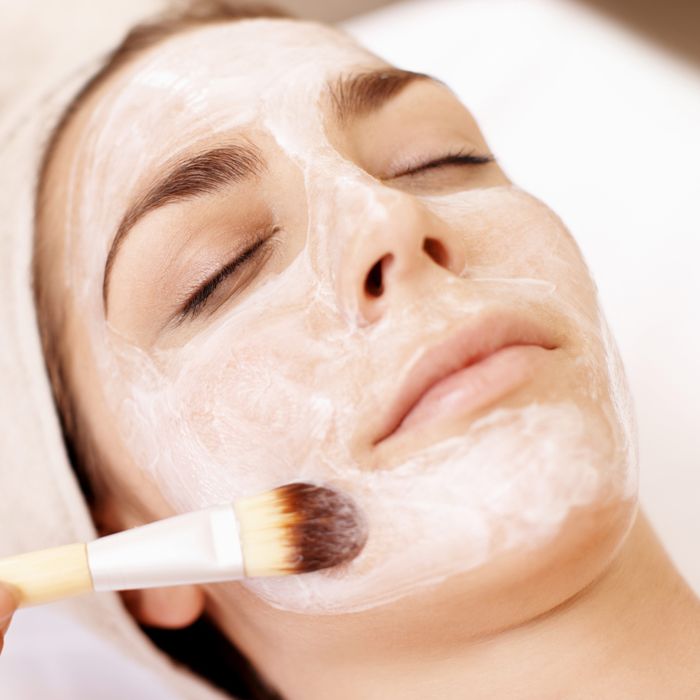 Photo: Abel Mitja Varela/Getty Images
Have you heard the tale of Mean Christine? She's a facialist who W magazine has deemed the Leona Helmsley of aestheticians. She's banned Naomi Campbell from her salon for being late. (Her unbanned client base includes Christy Turlington, James Franco, Penelope Cruz, Padma Lakshmi, and Gisele Bündchen.) She earned her nickname from her extreme devotion to painfully scraping the gunk out of your pores. Her clients love to hate her, like a trainer who can't stop making you do burpees for your own good.
Christine Chin relishes her reputation. "You know what they call me?" she says with the bravado of a WWE wrestler yelling out his own name in the ring. "Mean." I'm lying on a spa bed in her Orchard Street location, which is decorated like a slightly upscale doctor's office. This isn't the type of place where you get spa water and Frette spa bed linens. There are no cucumbers. Most facials are described as pampering, but almost every Yelp review of her salon mentions pain at least once, if not twice.
Before she was "Mean Christine," Chin was a makeup artist and brow specialist. Celebrity hairstylist Harry Josh, who has been a Chin client for over 20 years, discovered her by chance, walking into a shop she working at in Soho. She told him her facial and extractions were the only thing that was going to help with his "terrible texture and pores" (her words, not his).
"Direct" might be a better way to describe Christine. She told the receptionist during my friend's visit, unprompted, to, "make sure you write down the name of that place where she can get Botox for her forehead!" She's known for telling people that they have "donuts" in their skin — raised, slightly indented bumps resulting from old pimples. (She used to call them "volcanoes" until one of her clients cried about the too-mean moniker).
My skin was free of donuts, but unfortunately, it was teeming with something equally undesirable: Skin fungus. "It's all over your face," she said. "Don't worry, it's very common." I see dermatologists regularly and get fancy facials a few times a year, but no one has ever told me that my face had mushrooms. I envisioned something similar to athlete's foot. "They're skin tags," Chin clarified. "I once had a client with over 200 just on his chest, so don't worry, yours aren't so bad."
For the next 45 minutes, I was in tears. Chin opened each "skin tag" by sticking a needle into it and exerting pressure on the pore until it wheezed and gave up. My face was wet from tears, but Chin wiped them away with a practiced hand. I tried to breathe deeply to minimize the pain. At one point, she handed me a mirror so I could see what she was doing, pointing out a tiny raised bump, roughly the size of the point of a 0.5 mechanical pencil, on my eyelid.
"See, you have one there," she said solemnly, then jammed the needle into the pink rim of my eyelid. I watched, horrified, as she located a dark-brown splinter in the middle of the bump and yanked it out with a tweezer — a millimeter wrong to the left and she would have poked my eyeball. She examined every pore on my face and even raised a magnifying glass on my neck, where she found two tags. At one point, I wondered semi-seriously if epidurals were available for facials.
Post-facial, I looked like one of Roy Lichtenstein's red-dot-addled women. My face was blotchy from crying and full of bloody spots. Most facialists are excited to show you your glowing, dewy face; Christine, on the other hand, happily presented a white napkin splotted full of "skin tag" splinters. In the Uber home, I cancelled the rest of my plans for the day. Later, I noticed my skin starting to scab and began counting the dots, but gave up at 50. Was I going to wind up with 50+ facial scars?
Wondering what she has done to you is all part of the Chin process. "I was excited about the facial until I saw the mirror," Josh told me of his first experience. After I posted about the experience on Instagram, a makeup artist told me that on a shoot he once had the job of covering up the very same Chin-like scabs on a supermodel. "They will all fall off in a few days," Chin assured me.
Chin's methods are unorthodox and the Google results prove it. Despite extensive searching of terms like 'skin tags' and 'skin fungus', I couldn't find anything resembling the splinters that Chin removed from my face. I asked her for the scientific term so I could do more research, and she came back with, "It's just skin fungus."
When I explained my experience to a dermatologist, she looked horrified. "Only lasers can remove skin tags!" she said. "And you don't have any!"
I asked Dr. Dennis Gross for his thoughts on my experience. "I have never seen fungus extracted from the skin that way, nor have I read any reports like that. What you describe seems like classic buildup of oil and wax, also known as sebum. Removing it with an extractor is a standard treatment. Sometimes the buildup turned a brown color that you describe because of oxidation. Fungus usually presents as red scaly skin and cannot be extracted."
Josh says his Chin experience has also dumbfounded his doctors. "I was told by several dermatologists to laser off these skin tags, but Christine has always been able to extract them during her facial."
Chin was right. It took around four days for the scabs to fully heal, and I certainly didn't look glowier in the process. But after a few days, my colleagues began to tell me my skin looked exceptionally smooth. It appeared buffed, with a translucent, super-clear quality. My pores looked itty-bitty. My face felt marble-smooth. No fungus — or whatever it was — was there.
The Chin experience isn't for everyone, clearly. But if you believe in deep-cleaning your house every quarter, deep-cleaning your pores every so often makes sense. I don't know if pain is truly gain, but I do know that she's NYC's best deep pore cleaner.