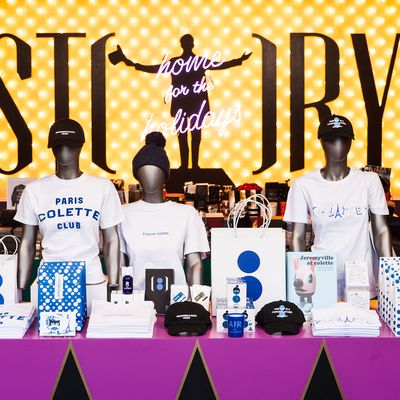 "Home for the Holidays" featuring Colette.
Photo: Courtesy of Story
Time is ticking for fashion-favorite French concept store Colette. The Parisian icon will close its doors on December 20, ending 20 years of provocative shopping. If you can't or couldn't book a flight to Paris before the last day, but still want to buy something in person, one New York store is selling Colette merch — the first and last store to ever host Colette-sanctioned items.
As of today, STORY, a Manhattan boutique at 144 Tenth Ave., has Colette bags, leather goods, hats, books, and T-shirts as part of a "Home for the Holidays" concept. In a statement, Colette founder Sarah Andelman said of the collaboration, "I'm honored Rachel asked us for a selection of our last 'Colette products.' It's like [sending] them to our distant cousin in America. … They're all very limited, enjoy!"
Get them while supplies last, shop online, or go ahead and book that flight to Paris.