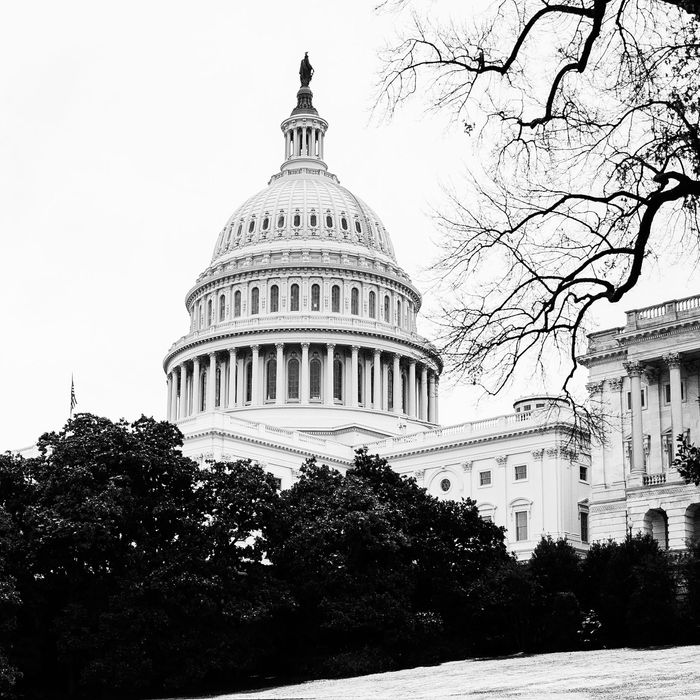 U.S. Capitol.
Photo: T.J. Kirkpatrick/Getty Images
The Office of Compliance of the U.S. House of Representatives revealed on Tuesday three additional sexual-harassment settlements it paid out, totaling $115,000, the Hill reports. The disclosure comes just one month after the Washington Post revealed the Office paid more than $17 million since 1997 to settle 264 workplace complaints (including harassment allegations).
According to the Hill, the three payments were made between fiscal years 2008 through 2012. Yet, the disclosure doesn't include any information about the recipients of the settlements, or from which offices the complaints originated.
Representative Gregg Harper, the chair of the House Administration Committee, released a statement, saying that his group had asked for a breakdown of the $17 million total amount paid to settle the aforementioned complaints. Harper added that the committee still hasn't received all of the requested information.
"We must create a culture within our Capitol Hill community that instills in every employee and employer, new and old, that there is no place for sexual harassment in the halls of Congress," Harper said.
However, on Monday, the Senate's Office of Compliance rejected a bid by Senator Tim Kaine to release information about that chamber's sexual-harassment settlements, claiming it would violate confidentiality rules. "The [Office of Compliance] shares your concern over the issue of sexual harassment in Congressional workplaces, and we stand ready to work with Members, Committees, and other employing offices to promote awareness and prevention of this problem," the office wrote in a letter, per the Hill.