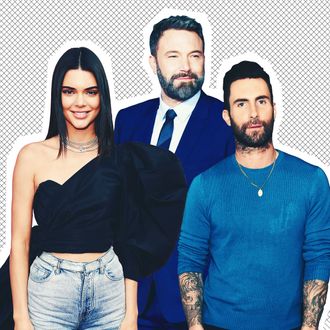 Kendall Jenner, Ben Affleck, and Adam Levine.
Photo: Getty Images
Despite everything that happened this year, celebrities still found the time to make unbelievably expensive real estate decisions. Stars like Ben Affleck, Meghan Markle, and Kendall Jenner all bought, sold, and rented properties with amenities like "24/7 butler service" and "two-story car collectors garages." You will probably never see inside any of these Beverly Hills mansions or uptown apartments, but you can read all about them if you are bored at work and thinking about what it would be like to be a very rich someone else. It's Friday! Have fun.
Ben Affleck's $28,000 a Month Apartment
How much money would you spend on a significant other's rental? In November, People reported that Ben Affleck had secured a $28,000 a month apartment on the Upper West Side for his SNL-producer girlfriend Lindsay Shookus. The apartment, according to People, has "3 bedrooms, panoramic views of both Central Park and the Hudson River, a private movie theater, pool and 24/7 butler service." And Affleck only stays there like, two weekends a month.
Meghan Markle's Secret Toronto House
Now that Meghan Markle has officially moved to London to be with her fiancé Prince Harry (the wedding is in 155 days!!!), her house in Toronto is for sale. It is in the tiny, quiet neighborhood Seaton Village, and The Globe and Mail reports that residents did not take much notice of the home until Prince Harry started showing up there. Markle was a renter; the property is actually owned by a fashion stylist named Elizabeth Cabral and her husband. To own the place where Markle and Prince Harry spent undercover time together, it will cost you at least $1,395,000.
Kendall Jenner Buys Charlie Sheen's Mansion
Earlier this month, Women's Wear Daily reported that perhaps the most straight-laced Kardashian, Kendall Jenner, bought Charlie Sheen's old party pad in Beverly Hills for $8.5 million. The property, according to WWD, has "a courtyard complete with a fountain, a movie theater, an outdoor pool and spa, as well as a tennis court." The house itself is 6,625 square feet — plenty of room for the bizarre $52,000 couch Jenner bought last year.
Adam Levine Gets $18 Million in Cash
It is funny to remember, sometimes, how rich people like Adam Levine are. The Voice judge just sold one of his Los Angeles mansions for $18 million in cash. He is also selling another Beverly Hills property, which he lived in before he married Victoria's Secret model Behati Prinsloo, for $16 million. This massive complex — still available! — has "a two-story car collectors garage with a speakeasy-style card room, an asymmetrical six-sided swimming pool set into charcoal-colored flagstone terracing, and a lighted tennis court converted to an outdoor basketball court," according to Variety.
Josh Charles's $6 Million Apartment
Even B-list actors have several million dollars to spend on New York City apartments, apparently. "Page Six" reported this year that the former Good Wife star Josh Charles bought a $6 million condo in Greenwich Village. It comes with a chef's kitchen, an "English courtyard garden," and a very special neighbor: Alec Baldwin owns three apartments in the building.
Kris Jenner's $10 Million Home Next to Kim's
This fall, Kris Jenner bought a $10 million mansion right across the street from the one owned by her daughter Kim Kardashian West and son-in-law Kanye West. The new place, according to Realtor.com, is 9,400 square feet (what!) and has zero-edge pool and 10-person hot tub. It is almost as nice as Kim and Kanye's place, which cost $20 million and has its own vineyard.
Anne Hathaway's 1920's "Cottage"
Here is a real estate decision that almost sounds reasonable: Anne Hathaway and her producer husband Adam Shulman bought a $2.8 million country home in Westport, Connecticut this fall. "Page Six" describes the place as a 1920's cottage with an outdoor kitchen and "ornamental English gardens." According to Variety, the property also has a "barn-style pool house" that is twice the size of my apartment. That extra space has "built-in book shelves, a loft space and a skylight lined cathedral ceiling with rustic exposed wood beams." The "cottage" itself has five bedrooms and five-and-a-half baths.