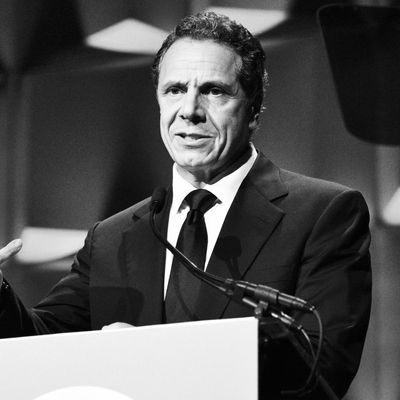 Governor Cuomo at an event in November.
Photo: Bryan Bedder/Getty Images for UNICEF
New York governor Andrew Cuomo, never one to mince words, answered a female reporter who asked about sexual harassment by telling her she was doing a "disservice to women."
The exchange between Cuomo and public radio reporter Karen DeWitt occurred on Wednesday, when she asked about how his administration would be handling sexual harassment going forward — given both the climate in general and the Sam Hoyt case in particular. Hoyt, a former economic development aide for the governor, is accused of sexually harassing a woman for months; he resigned in October while under investigation.
Cuomo did the old "answer a question with a question" trick, asking her what she was doing about sexual harassment in journalism. When he was further pressed to focus on state government, the Governor went on a short tirade.
"When you say, 'it's state government,' you do a disservice to women, with all due respect, even though you're a woman," he said. "It's not government, it's society. It was Harvey Weinstein in the arts industry, it's comedians, it's politicians, it's chefs. It's systemic, it's societal. It's not one person in one area. It's not just Charlie Rose, right? It's not just Matt Lauer. It's not just journalists. It's societal. Understand the breadth of the problem."
A good rule of thumb: "It's just society, man" is rarely a sound defense when asked about something you oversee.