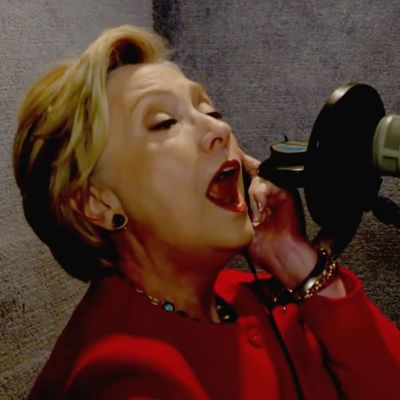 Photo: Courtesy of Comedy Central
The Daily Show knows it's certainly been a … year … for women. And so, in its Monday night Yearly Show special, correspondents Desi Lydic and Dulcé Sloan teamed up for the appropriately titled "Song for Women 2017" — featuring special guests Hillary Clinton and DJ Mansplain.
In the video, Lydic plays the role of the white feminist who's had an ammmmazzzzinnngg 2017, while Sloan is someone who knows just how awful this past year has been. The two sing about the crap women have had to deal with this year (sexual harassment, Trump) and also some seemingly good things that happened for women in 2017 (including the impeachment of a South Korean female politician, a step towards equality!).
Then, Clinton appears on screen to belt out her feelings, and the women eventually get interrupted by DJ Mansplain — just like real life.