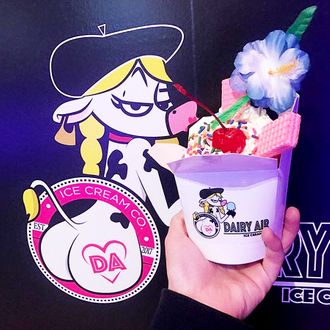 R.I.P. Sexy Cow.
Photo: Courtesy of Instagram/dairyair_icecream_co
Last week, we brought you news of a sexy cow logo tearing a small New Jersey town apart. And now, we must inform you, the sexy cow logo will soon be no more.
The whole kerfuffle involves the recently opened Dairy Air Ice Cream Co. in Montclair, NJ. One of the store's logos depicts a cow wearing a beret, eating ice cream, and having a human-shaped ass. Local business owner Amy Tingle took issue with it and posted an open letter to Facebook, writing "This kind of marketing scheme is the reason we currently have a sexual predator in the White House."
She and her partner also opened their store, The Creativity Caravan, for anyone in town who wanted a space to discuss the sexy cow.
In a press release, Dairy Air's owners confirmed for the first time that they were changing the logo. "We simply created a fun illustration to complement our fun name. In 'hindsight,' however, we realize that the illustration may have been offensive to some. In light of that, we are working now to tweak it," Anthony Tortoriello said. "We want the awesome taste of our ice cream to unify — not divide — our community. We stand by our product 100 percent, but we're ok putting the cow out to pasture."
Tortoriello also told the Montclair Local that manager Natalie DeRosa quit in the midst of this. "She resigned from the company," he said. "She's a young college girl and she didn't like what was going on with the back and forth. She has a career ahead of her. It's been tough."
In previous coverage of sexy cowgate, DeRosa is quoted as writing, "We are acting to change the cow to be more fun and less sexy. Our goal was always fun and not sexy."
It's yet to be seen exactly how fun and not sexy the new logo will be.