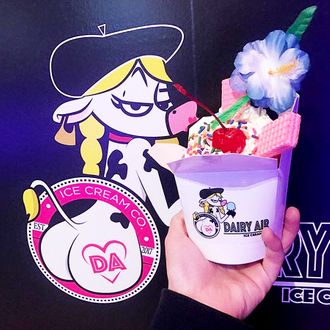 The logo in question.
Photo: Courtesy of Instagram/dairyair_icecream_co
It's a tale as old as time: a small idyllic suburb with tensions running high over a hyperlocal issue. In this case, we bring you to the town of Montclair, New Jersey, where an ice cream store's "sexy cow" logo is causing a whole lot of drama.
The logo in question belongs to the recently opened Dairy Air Ice Cream Co. (get it?) and would frankly make a furry blush. It features a cartoon ice-cream-eating cow with blond braids, earrings, a beret (?), and a human ass (???). She looks like the Skinny Cow's more, uh, adventurous cousin.
It's the human ass part in particular that's upsetting residents. NorthJersey.com reports that Amy Tingle posted a now-private open letter on Facebook criticizing the ice cream shop's choice. "It is offensive and sickening. A hyper-sexualized, obviously female cow with her ass upended and poking through a circle, tail raised up, waiting for what? I'm not sure, but I do know that I am repulsed and offended," she wrote. "This kind of marketing scheme is the reason we currently have a sexual predator in the White House."
Tingle and her partner, Maya Stein, co-own a local business called The Creativity Caravan — a "studio, gallery, and imaginarium." While Dairy Air's owner, Anthony Tortoriello, hasn't commented on the issue publicly, Stein said that he stopped by their store to argue that the logo wasn't sexualized.
The store's manager, Natalie DeRose, took to Facebook to say her piece as well. "We have heard the complaints," she wrote. "We take them very seriously and we are acting to change the cow to be more fun and less sexy. Our goal was always fun and not sexy."
Dairy Air's exterior storefront does not feature the cow logo, opting instead for a graphic of an ice cream sandwich that is, in this writer's opinion, neither fun nor sexy.
There have reportedly been mixed reactions to Tingle's statement, with some calling it an overreaction, while others praised her for speaking up. Others still have complained elsewhere that their issue with Dairy Air is that they charge $9 for ice cream.
On Saturday, Tingle and Stein are opening up their business for anyone who wants to come to "a community meeting" to further discuss the issue. "I hope people get quiet enough to listen to each other's pain without trying to rationalize it or trying to tell this person, 'How could you be in pain?'" Stein told NorthJersey.com "You can't tell somebody what to be in pain over."
Meanwhile, Dairy Air has since made their Instagram private — and only time will tell what will happen to the sexy ice cream cow.