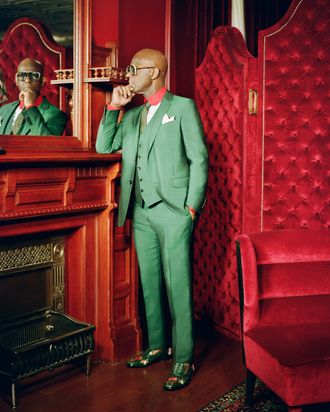 Dapper Dan.
Photo: Renell Medrano/Courtesy of Gucci
Twenty-five years after Dapper Dan was forced to close his popular Harlem atelier due to an onslaught of lawsuits and bounced checks, the knockoff king is back. And with the help of a brand he customized, no less.
Today, Gucci and Dapper Dan unveiled a new luxury studio atelier space, located close to the original on Lenox Avenue in a historic brownstone. Here, Dan will create his bespoke garments once more, this time using Gucci's raw materials, fabrics, prints, embroidered patches, and hardware with their full permission.
"Everyone paid homage to Dapper Dan, but no one ever paid him," said Dapper Dan himself in a statement released by Gucci. "The people have spoken and Gucci has listened. Nothing has been more significant in the Harlem cultural scene than Alessandro and Gucci coming to Harlem and partnering with Dapper Dan."
Dapper Dan's atelier will officially open for business "by appointment only" starting January 2018. In addition to this custom Harlem project, a Gucci x Dapper Dan capsule will be part of Gucci's Fall 2018 collection, available in Gucci stores worldwide.