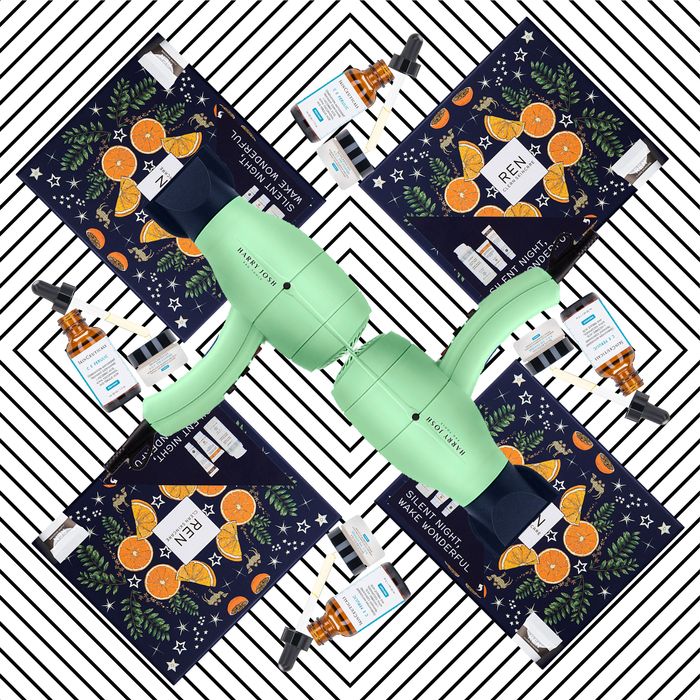 With the holiday season in full swing, it's getting harder to snag the perfect gift — for your loved ones, and one or two, to treat yourself. But, aha! Dermstore is making the art of gift-giving a little easier. Now until December 19, the e-tailer is discounting select beauty "kits" by 20 percent. Looking for the tools that make Gisele Bündchen's hair look so good? How about the brand that beauty editors can't stop talking about? Scroll down for the best kits to buy before they sell out.
Harry Josh, Gisele's hairstylist, regularly creates hair tools so great that they get compared to luxury cars, has a new kit for the holidays. The star of this set is the infamous hair dryer, which is light, will dry your hair without drying it out, and does it 50 percent faster (it blows 80+ miles per hour). You get two hairbrushes, clips to part your hair into section, all for less than the price of just the hairdryer.
Original Price: $374
The Celebrity Makeup Artist Favorite
A celebrity makeup artist once gave me three chances to guess his favorite, secret highlighter. My clues were that it wasn't from a "natural" brand and it was a little-known one. I've already used up one of my guesses, but I'm going to guess these Jouer highlighters for the next one. The color is perfectly luminescent and not white, shimmery, or chalky. You can use a little for a subtle J.Crew-like-effect, to a lot for a Pat McGrath-like effect. Now they came in a trio on-sale.
Original Price: $39
The Brand Beauty Editors Love
For a period of time, 50 percent of the beauty editors I knew were using CE Ferulic in the mornings, myself included (despite my belief that it smelled sort of like the meat sweats). That's because it was the most potent anti-ager serum on the market at the time — filled with antioxidants and good-for-you-acids. For the holidays, it is incredibly and rarely on-sale and packaged in this kit with an eye cream.
Original Price: $374
If You Want Super-Smooth Skin
Everyone is tired around the holidays, and you deserve skin-care treatments that are powerful enough to work while you sleep. Consider this: Using a blend of lactic and glycolic acids, REN's "Wake Wonderful Night-Time Facial" sloughs away dead skin cells over the course of one night. You'll wake up with softer, smoother skin. During the day, "Flash Rinse" injects skin with 10-percent vitamin C, alleviating dullness, and V-Cense Night Cream, which is rich in coconut oil and and glycerin, hydrates your face and ensures that you wake up with a natural glow. Separately, all three cost upwards of $150.
Original Price: $58
The Pack That Fights Dry Hair
Dumping caviar in your hair sounds silly, but fear not: this shampoo and conditioner duo actually works. Whether it's the moisturizing fatty acids from the caviar extract, or the shea butter, jojoba oil, or sunflower oils thrown into the mix, Alterna's Caviar line is your starter pack to smooth, never-dry hair. And as a bonus, both carry a faintly citrus-like scent.
Original Price: $57
The Prettiest (and Best-Smelling) Kit
Cracked, winter skin is always a pain, and here's a very pretty set to stop it before it starts. By Terry's hand cream is thick, but not greasy, and the lip gloss deposits a small amount of glimmer while moisturizing chapped lips. Don't forget the face cream, which you can also use on your body if you like, so you can smell the charming scent of roses all day long.
Original Price: $75