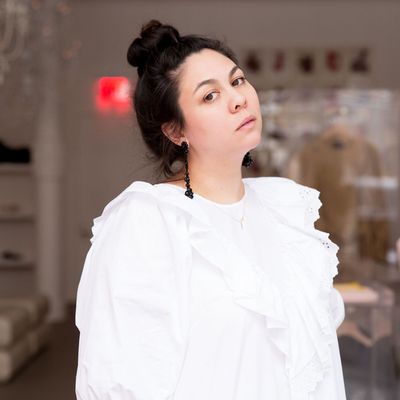 Simone Rocha.
Photo: Courtesy of Simone Rocha
Before Simone Rocha became a big name on the London Fashion Week calendar, she was introduced to the industry at the earliest age possible — her father is the designer John Rocha, who became a regular at LFW before Simone could walk. She remembers making designs of her own during home economics class in her native Ireland. "The first thing I ever made was a three-tiered silk taffeta skirt," she says. Taffeta is still one of her favorite fabrics. She's now one of London's favorite fashion designers, thanks to her directional-yet-wearable designs. Think: black taffeta dresses with robust floral appliqués, and voluminous dresses that are just the right shade of edgy with an antique-meets-modern sensibility.
It feels like things are coming full circle for the designer. After fashion was a significant part of her early life, she moved to London to attend the master's program at the prestigious Central St. Martins fashion school and upon graduating, "I started showing with the collective Fashion East," Rocha says. From the onset, she stood out from the crowd. Since putting on her first solo show in 2011, she has won a British Fashion Award for Emerging Talent in the ready-to-wear category (2013); the New Establishment Award (2014); the British Womenswear Designer Award (2016); and the Harper's Bazaar Designer of Year Award (2016).
When discussing her most recent spring/summer 2018 collection, which debuted last September in London, designer Simone Rocha is ecstatic. Her Victorian- and Edwardian-inspired collection of romantically ruffled or floral-embroidered dresses gave editors and shoppers something to lust after. The muses behind the collection charmingly date back to Rocha's childhood — she cites the china dolls of her youth, dressed in Victorian garb, as a point of departure for the lace- and bead-enhanced dresses and jackets she created for spring.
Below, the designer reveals her favorite chic coffee-table books, her obsession with period dramas, and why you'll never see her in a pair of jeans. Read on for the full Q&A.
Color or no color on your nails?
Color! My go-tos are nude or red.
Five coffee-table books you'd be proud to display?
Louise Bourgeois's Intimate Geometries; Roni Horn: Bird; Araki: Tokyo Lucky Hole; Marcel Dzama; and Michaël Borremans: As Sweet as it Gets.
What trend do you like right now?
Socks and sandals.
Favorite song on your playlist?
Cigarettes After Sex, "Nothing's Going to Hurt You Baby."
How do you thank people for a gift?
I like to send seasonal bouquets as well as Irish poetry books.
Heels or flats?
Flats, especially my own AW17 faux-fur bow sliders or Nike Free trainers.
What would you never wear?
Jeans — I have just never been a trousers person.
What's one way your taste has changed since you were a teen and one way it's stayed the same?
It's changed in that I don't wear jeans; but I'm still wearing knee socks!
If you were a car, what kind of car would you be?
A black Mercedes Estate. This is the car I drive — I like that it is practical but still elegant.
No-makeup makeup, or actually no makeup?
Actually no makeup.
Last show you binge-watched?
The Handmaid's Tale.
Decade you'd like to live in and why?
The Georgian Era in the Irish countryside. I love the romanticism of the era and the landscape.
What's your guilty pleasure?
Period dramas — books, TV, movies … all of the above. I like to travel to a different time and place but see that all the human interactions are still the same.
What are your favorite accounts to follow on Instagram? @claireban and @longlonglibrary. Claireban is a friend living in New York so it's great to feel connected to her, as well as her great capturing of Ireland; Long Long Library introduces me to amazing books old and new.
What's your favorite pen for sketching? 
A black, skinny Sharpie.
Candle?
The Hotel Costes original candle. I love the smell in a dark room.
T-shirt?
My boyfriend's Palace Palestine T-shirt; I don't really wear T-shirts myself but I like how this one looks on him.
Pajamas?
Vintage washed cotton nightshirts from the markets in France — they are very classic and only get better with age.
Flower?
Chocolate cosmos, I love their deep color and long, lean stems.
Even when they are in a vase they look wild.
Chocolate?
Jean Paul Hévin Chocolatier — the salty caramel disks are heaven.
Perfume?
Carnal Flower by Frederic Malle — it has been my favorite for a long time and has become quite signature and comforting to me.
Linens?
Good white sheets from the White Company — I find them to be classic and high-quality.
Lip balm
Carmex Original — I hate the taste and smell of most products but find this very effective.
If you buy something through our links, New York may earn an affiliate commission.