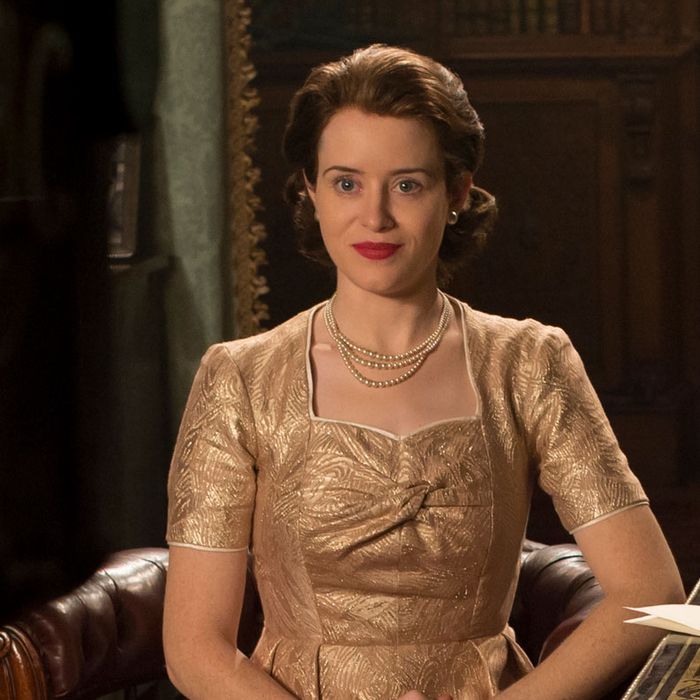 Claire Foy as Queen Elizabeth in the Crown.
Photo: Alex Bailey / Netflix
One of the highlights of The Crown season two was the story of a guy named Lord Altrincham who just wanted to make his country a better place. In the fifth episode, "Marionettes," he criticized Queen Elizabeth and the royal family for being too removed from the common people after the queen gave a grossly misguided (and borderline insulting) speech to workers at a car factory. Years later, the royals admitted that Lord Altrincham's criticisms and subsequent solutions — such as suggesting that the queen televise her annual Christmas message to appear more personable — likely saved the modern monarchy from crumbling. And now, depending on whom you ask, the queen actually acknowledged that during this year's Christmas message.
Broadcasting live per her annual tradition, Queen Elizabeth opened her message by commenting on her very first televised moment. What a nice coincidence! "Sixty years ago today, a young woman spoke about the speed of technological change as she presented the first television broadcast of its kind. She described the moment as a landmark," she said. "Six decades on, the presenter has 'evolved' somewhat, as has the technology she described."
As Digital Spy reports, British Crown viewers went into a tweeting frenzy after Queen Elizabeth muttered those words, noting how it was conveniently mentioned a few weeks after the story line aired on Netflix. (One of the many tweets: "Nice of the Queen to reference Claire Foy like that.") Of course, there's no way to know for certain, although the queen reportedly has watched The Crown with family members and quite likes its palace shenanigans. It's not impossible!