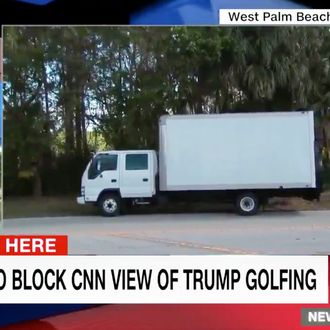 Truck blocking Trump.
Photo: Courtesy of CNN
In life, we all need a friend who is willing to step up and block us from being captured in unflattering pictures and video. For Donald Trump, that friend is apparently the big white truck that has been blocking CNN from filming him as he golfs in Florida this week.
"The president and his staff doesn't really tell us when he is golfing, and we have taken to going outside the golf course and filming him as he golfs through a break in hedges near the club," CNN's Dan Merica explained to Don Lemon on Wednesday. "Today a big white box truck parked in front of those hedges trying to obscure our shot of President Trump golfing."
Merica went on to explain that though the incident "may seem trivial," it's actually "important to get video of the president as he does these things on a daily basis." That's because the White House has been "trying to obscure the fact" that Trump golfs regularly — presumably because of his past criticism for former president Barack Obama's golfing. CNN predicts that Trump may triple the amount of time Obama spent on the golf course.
Nice of Trump's only true friend to help him out.