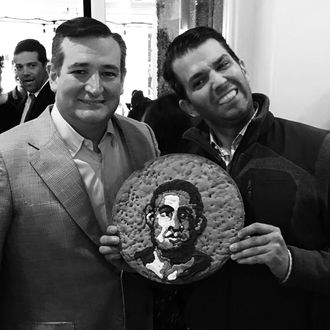 Cruz, cookie, Trump.
Photo: Courtesy of Instagram/onaldjtrumpjr
Even though his dad has been in office for nearly a full year now, fitness fanatic Donald Trump Jr. can't stop obsessing over former president Barack Obama. Case in point: The expert sitter celebrated his 40th birthday with Luke Skywalker feuder Ted Cruz and a poorly decorated cookie cake of an ex-president who's much more popular than his father.
In three remarkably dumb Instagram pictures, Don Jr. is seen making quizzical faces while posing with his Obama cookie cake, which he apparently received two weeks before his actual birthday. And if you click through the Instagram pictures, you'll see the shot of Jr. with Cruz, as well as pics of him with other "good friends" — and the cake that serves as a reminder that some people just can't let anything go.
Like father, like son.