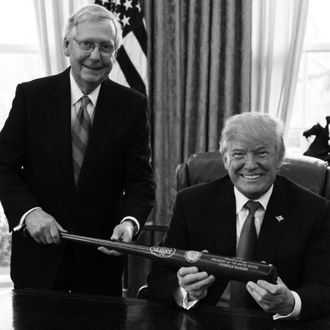 Mitch McConnell, Donald Trump, and a present!
Photo: Twitter/Joe Sonka
This week, Congress passed a Republican tax bill that will have adverse consequences for millions of Americans. On Wednesday, to celebrate, Senator Mitch McConnell gave President Donald Trump a big-boy present: a personalized Louisville Slugger baseball bat.
According to the Washington Post, McConnell said the gift symbolizes how Trump has "gone to bat for the middle class" (hmm, does he mean corporations?). We think it also means McConnell assumes that Trump, a thirsty boy who loves water, must have grown out of his playing-with-trucks phase and is ready for an activity suitable for non-toddlers.