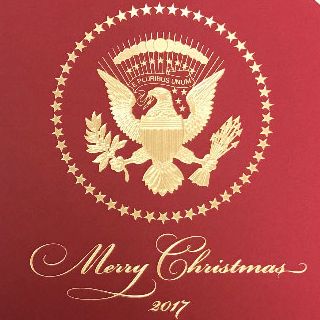 Photo: Courtesy of Splinter
At its core, the true meaning of Christmas is about celebrating the birth of Jesus. For the more secular, it's about cherishing time with friends and family. For the unabashedly commercial, it's about getting presents. For Donald Trump, it's about sending a friggin' enormous Christmas card to members of Congress.
Splinter first published photos of the card, sent to them by a tipster who included a penny for scale. It features a red background, a gold presidential seal, and is signed by the president, and then apparently again by the president but writing "Melania Trump" that time.
It appears to be fully four times the size of a standard Christmas card, or one standard Trump hand.