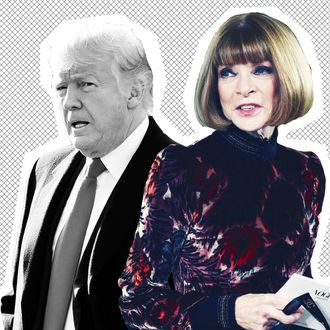 Donald Trump and Anna Wintour.
Photo: Getty Images
Much of Puerto Rico is still without power and parts of the U.S. are blanketed in record-breaking snow, but on Thursday, the president of the United States took a break from his busy golf schedule to … tweet about Anna Wintour and Vanity Fair.
"Vanity Fair, which looks like it is on its last legs, is bending over backwards in apologizing for the minor hit they took at Cooked H.," President Donald Trump's tweet begins.
He is, of course, referring to a Vanity Fair video that joked about New Year's resolutions for Hillary Clinton, including suggestions that she take up knitting and improv comedy. The video received backlash online amid accusations of sexism — and a female writer who briefly appears in it subsequently became the target of online harassment and threats. The magazine has since apologized for posting the video, saying that it was an attempt at humor that "missed the mark."
Trump's tweet continues, "Anna Wintour, who was all set to be Amb to Court of St. James's & a big fundraiser for CH, is beside herself in grief & begging for forgiveness!"
Well, Wintour is the editorial director of Condé Nast, which publishes Vanity Fair. But she is also, famously, the longtime editor-in-chief of Vogue, not Vanity Fair. Bonus: As a quick search reveals, Trump himself endorsed her for an ambassadorship in 2012.