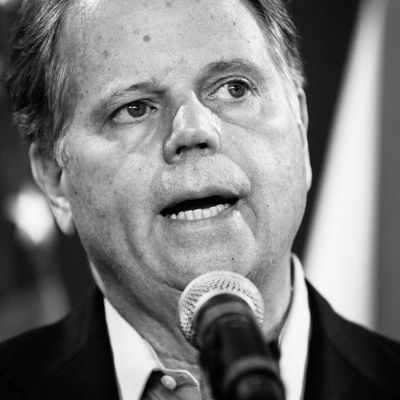 Democrat Doug Jones beat Roy Moore in last week's Alabama Senate election.
Photo: Mark Wallheiser/Getty Images
Looks like Democrat Doug Jones will not be joining Kirsten Gillibrand, Cory Booker, and the handful of other senators who have recently called for Trump's resignation over the long list of sexual-assault allegations against him. Speaking to CNN's Jake Tapper about the allegations this morning, the Alabama senator-elect said that it's time for America to "move on" and not "get distracted by those issues," BuzzFeed reports.
"Let's get on with the real issues that are facing people of this country right now, and I don't think that the president ought to resign at this point," he continued. "We'll see how things go. But certainly those allegations are not new, and he was elected with those allegations front and center."
Were America to ignore "those issues" by default, it's possible that Jones would not be a senator-elect. In last week's election for U.S. Senate, Jones received 49.92 percent of the vote to culture warrior Roy Moore's 48.38 percent. At the time of the election, Moore had been accused by eight women of sexual misconduct, and many of the accusers alleged that he preyed on them when they were teenagers.
Jones went on to justify his disheartening remark by emphasizing that the allegations against Trump were made before the election, "so people had an opportunity to judge [beforehand]." The line resembles Senate majority leader Mitch McConnell's call before last week's election to "let the people of Alabama decide" whether or not they believed Moore was unfit for office.
While people like Jones may be ready to move on, Trump's accusers are not. Just last week, three women who have accused Trump of sexual misconduct went on Megyn Kelly Today to share their stories.
"We're private citizens, and for us to put ourselves out there to try and show America who this man is, and especially how he views women, and for them to say, Meh, we don't care, it hurts," Trump-accuser Samantha Holvey told Kelly. "And so now, it's just like, Alright, let's try round two. The environment's different. Let's try again."