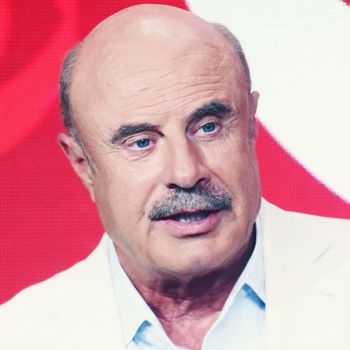 Phil McGraw.
Photo: Frederick M. Brown/Getty Images
On his show Dr. Phil, psychologist and television personality Phil McGraw offers "life strategies" to people who are struggling, including, frequently, addicts. According to a joint investigation by STAT News and the Boston Globe, however, some of the show's producers put guests fighting addiction at risk by providing them with drugs and alcohol.
One former guest, Todd Herzog — the winner of 2007's Survivor: China, who appeared on Dr. Phil in 2013 to help battle his alcoholism — told STAT/the Globe that he arrived at the studio sober, but prior to the taping, he found a bottle of Smirnoff vodka waiting for him in his dressing room. After he drank all of it, he says a staffer gave him Xanax to "calm his nerves."
Psychologist Martin Greenberg, the show's director of professional affairs, denies these allegations.
Herzog appeared on the show two more times after relapsing. The third time, he says he found a bottle of vodka in his dressing room again, but that he did not drink the whole thing.
While he told STAT and the Globe that he is grateful to the show for getting him help, Herzog added: "There should not be liters of vodka in my dressing room."
Another guest, Jordan Smith, who appeared on the show in 2012 while pregnant and struggling with a heroin addiction, suffered serious withdrawals while waiting for her taping. Smith's aunt, who traveled with her, says her niece was not given any medical supervision. As Jordan's withdrawals got worse, her mother and aunt told one of the show's producer's that she needed heroin. The producer took them down to L.A.'s Skid Row, where she filmed Jordan's hunt for drugs. The segment later appeared on the show.
"It's a callous and inexcusable exploitation," said Dr. Jeff Sugar, an assistant professor of clinical psychiatry at the University of Southern California. "These people are barely hanging on. It's like if one of them was drowning and approaching a lifeboat, and instead of throwing them an inflatable doughnut, you throw them an anchor."
Read the full story here.