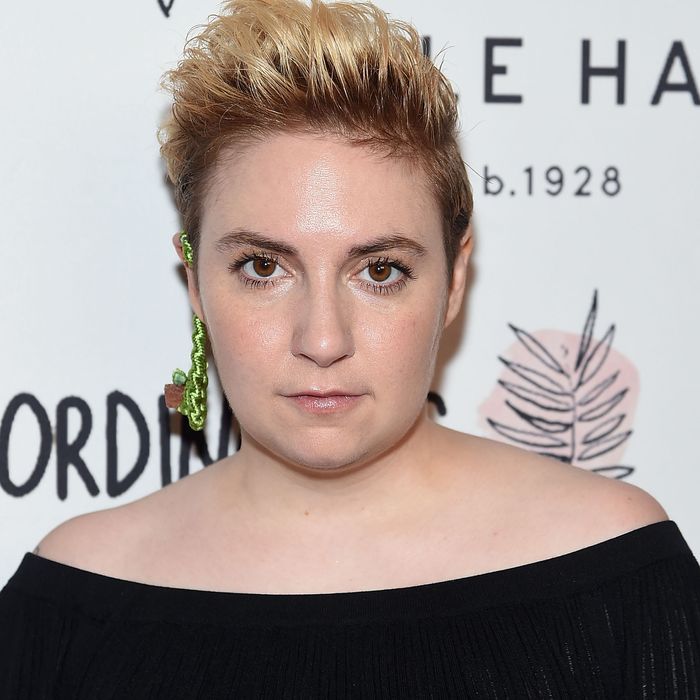 Photo: Jamie McCarthy/Getty Images
A new, expansive report by the New York Times outlines the many ways Harvey Weinstein used his wealth and connections in media, politics, and beyond to hide his alleged history of sexual assault. And within the massive story, Lena Dunham shares an account of attempting to warn the 2016 Hillary Clinton presidential campaign about the movie producer's reputation, and encouraging the candidate to distance herself from the producer. After allegedly hearing stories about Weinstein's misconduct through other actresses, Dunham, who was a vocal supporter of Clinton, claims she told Kristina Schake, the campaign's deputy communications director, about his behavior. She recalls telling Schake:
I just want you to let you know that Harvey's a rapist and this is going to come out at some point. I think it's a really bad idea for him to host fund-raisers and be involved because it's an open secret in Hollywood that he has a problem with sexual assault.
Dunham claims that, after her warning, Schake said she would alert Robby Mook, the campaign manager. She also allegedly warned a Clinton spokeswoman named Adrienne Elrod. It would seem that her alleged warnings did not affect the campaign's relationship with Weinstein, however: Weeks before the election, Weinstein helped organize a celebrity-filled Broadway fund-raiser that included appearances from Julia Roberts, Jon Hamm, Hugh Jackman, Neil Patrick Harris, and even Dunham herself. Elrod and Schake have denied to the Times that Dunham ever mentioned "rape" when discussing Weinstein, and Mook claims he was not alerted to the issue.
Dunham was not the only prominent woman mentioned who claims she cautioned Clinton officials about Weinstein. Famed magazine editor Tina Brown told the Times that she warned a "member of Clinton's inner circle" about rumors she had heard during Clinton's first run for the presidency in 2008. "I was hearing that Harvey's sleaziness with women had escalated since I left Talk in 2002, and she was unwise to be so closely associated with him," Brown claims. However, a representative from the campaign said no one could recall Brown's warning to them.